Olympic opening ceremony was first and only time novelist had seen 'Britishness' celebrated, he tells Scotland's first minister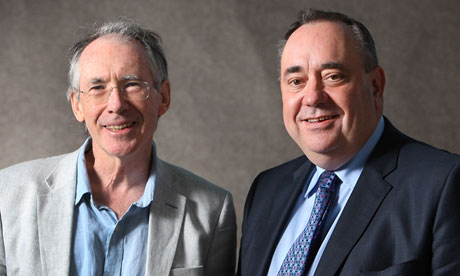 The
Booker prize
winning novelist
Ian McEwan
has rejected any notion that he is a British writer, insisting instead that English and Scottish writers are culturally different and have distinctive roots and ways of writing.
McEwan said he believed that the "strange and rather heady" celebration of Britishness captured by Danny Boyle's opening ceremony for the Olympics was the first experience of his life where a concept of Britishness was being celebrated.
In a rare public discussion with
Alex Salmond
, the Scottish first minister, at the
Edinburgh international book festival
, McEwan said he believed separate national literary cultures in the British isles had survived the act of union between England and
Scotland
three centuries ago.
Interviewed by Salmond about his new novel Sweet Tooth, the writer recalled he had told Salmond he disputed his label as a British novelist when the politician gave
a speech at the Guardian offices in January on his vision for Britain
if Scotland won independence.
"I put it you that there are no British poets, there are no British novelists," McEwan said.
"I have heard myself described as one but I think really I'm an English novelist; there are Scottish poets and Scottish novelists."
Stressing later that he does not use the word "provincial" in a pejorative sense, he added: "It struck me this is where
poetry
and football coalesce; Olympics apart, we've kept our football traditions separate too.
"As regards literary culture, it fascinates me that it has been so resilient to the union.
"For example, when
TS Eliot
wanted to become poet in this lands, it wasn't as an English poet, it was an Anglian poet he wanted to be.
"So one thought that strikes me, particularly with a novel, this reinforces my suspicion that all novels are provincial and all the great novels are very rooted in a particular time and place.
"So whether it's Madame Bovary or Anna Karenina, they're specific to a time and place; through that by accident there arises a kind of mist. There are universal values but they're not actually the things that the novelist is concentrating on.
"It's here and now, it's the specifics of Bovary's life or Karenina's wedding; it's that specificity."
Full interview at The Guardian
, most interesting.