Training for a marathon in Siberia is easy with a talking book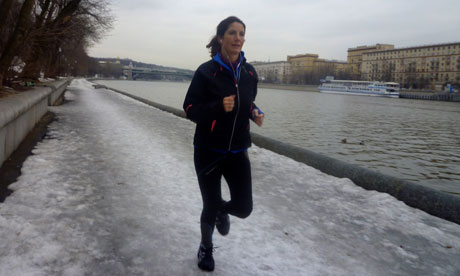 It's minus 17 degrees in Gorky Park, Moscow, and I quicken my pace along the snow-crusted paths. Since I started to run, there has been a knife attack and murder in a hotel room and the killer is preparing to make a suicidal leap from a bridge.
It's adrenaline-pumping stuff, but – though I'm in spy thriller heartland here in the Russian capital – the whole thing is taking place in my head or, perhaps more accurately, via my headphones.
The Fear Index
, a thoughtful thriller from former
Observer
journalist Robert Harris, is the latest audiobook to take my mind off the slog of training for a Siberian half-marathon in temperatures that should keep any respectable weedy Englishwoman indoors on the sofa.
Reluctantly leaving our flat to pace the embankment of the frozen Moskva river three or four times a week, I've listened gratefully to Harris's tale of hedge funds and rather too clever artificial intelligence and to much else besides: Simon Sebag Montefiore's
Young Stalin
;
The Story of English in 100 Words
by David Crystal; Gillian Tett's history of the banking crisis,
Fool's Gold;
favourite bits of Jane Austen.
It's all a bit surreal. Living in Moscow (my partner is working here for two years) is odd enough anyway, without David Crystal suddenly whispering "arse – an impolite word" in your ear as you jog past the Gotham-style Stalinist skyscraper of Moscow State University. But since I had the bonkers idea of signing up for a half-marathon held annually on the frozen surface of Lake Baikal, it's the calm and diverting rhythm of
audiobooks
that has persuaded me to train on snow and ice in temperatures dipping below 20 degrees.
Typically, iPod-toting runners opt for a musical soundtrack –
running
websites are full of threads recommending pumping sounds that will speed Lycra-clad sportsmen and women to new "personal best" times. But as the spring marathon and half-marathon season approaches, many of those pacing the pavements are not finely tuned super specimens, but ordinary, rather unfit people seeking a bit of free, adaptable exercise with a goal to push them on.
Full story at The Observer