Salman Rushdie and Martin Amis among those at Cooper Union to celebrate life and work of 'pioneer at the frontier'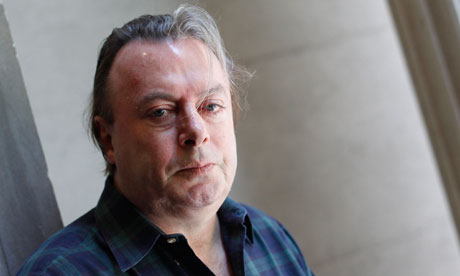 "Little Keith" called him a suffering auto-contrarian and likened him to Houdini; Graydon Carter said he was a "bit of a scallywag" but an editor's dream; and the doctor who treated him for the cancer of the oesophagus that killed him said he was a "pioneer at the frontier".
Unsurprisingly, though, it was
Christopher Hitchens
who had the funniest and the most apposite words with which to describe himself at his own memorial in
New York
on Friday. He was, he said of himself in posthumous film clips and readings, a "radical freelance scribbler" who had devoted his life to curiosity, irony, debunking, disputation, drinking, love and hate (though of all those things, it was hate that got him out of bed in the morning).
"The cause of my life," Hitchens said in one snippet included in a compilation put together by the Oscar-winning documentary maker Alex Dibney, "has been to oppose superstition. It's a battle you can't hope to win – it's a battle that's going to go on forever. It's part of the human condition."
For an hour and a half, the cavernous Great Hall of the Cooper Union in Manhattan was filled with the wit and the coruscating erudition of the man universally referred to as "Hitch". But for
Martin Amis
- "Little Keith" as Hitchens always called him – the most enduring quality was friendship.
Amis, delivering the eulogy, recalled the 16 or 17-hour sessions that they would have together, fuelled by food, drink, tobacco and conversation. "Who could be more agreeable than Hitch?" Amis asked.
The novelist pondered the secret of why Hitchens had been so widely loved over his career as an essayist, polemicist and public intellectual. It was partly, Amis said, because of his "full and friendly" good looks, partly because of his "perfect voice without any mannerisms or poncey intonations like mine" and partly because he loved nothing so much as to argue with himself.
"He was an auto-contrarian: he contradicted himself as if he felt the only person really worth arguing with was Christopher Hitchens."
At times, Amis said, he tied himself in knots, getting into difficult places over his support for the impeachment of Bill Clinton and the invasion of Iraq. Unbeknown to many, Hitchens "suffered very much from these isolations that he brought on himself."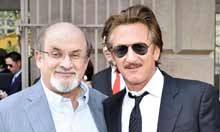 The memorial marked the final gathering of the Christopher Hitchens gang – Amis,
Ian McEwan
,
Salman Rushdie
, James Fenton – with Hitchens' central place in the circle marked by a photo of him with his face caked in cosmetic mud and a cigarette stuck in his mouth beamed on screens above them.
Full piece at The Guardian.