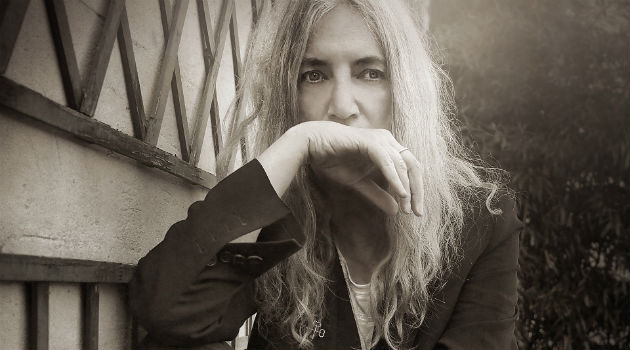 ---
Patti Smith: In Her Own Words

"Never let go of that fiery sadness called desire." - Patti Smith
"Dylan and Leonard Cohen and Patti Smith, all dark, all romantic…a sensibility that sees everything, and has to express everything." - Jeff Buckley

The Sydney Writers' Festival is pleased to present an
exclusive 24-hour pre-sale
to
Patti Smith: In Her Own Words
at Sydney Opera House.
In a rare solo appearance, Patti Smith will take to the stage of the Joan Sutherland Theatre on Sunday 23 April as part of the Sydney Opera House Talks & Ideas program – to talk, read and sing from her acclaimed body of work.
Smith will discuss the many and varied dimensions of a career that spans 13 studio albums, visual arts, poetry and memoir, including Just Kids, 2010's National Book Award winning tale chronicling her and photographer Robert Mapplethorpe's enduring friendship and their mutual evolution as artists, and her most recent offering, M Train.
Beginning in the tiny Greenwich Village café where Smith has her black coffee each morning, M Train ruminates on the world as it was and is, in prose that shifts fluidly between dreams and reality, past and present, and reflections on the writer's craft and the loss of her husband, Fred Sonic Smith, in 1994. It was nominated for a Grammy Award for Best Spoken Album in 2017.
In 2005, Patti Smith received the Commandeur de l'Ordre des Arts et des Lettres, the highest honour awarded by the French Republic to eminent artists and writers. In 2007, she was inducted into the Rock and Roll Hall of Fame and a year later, the Foundation Cartier pour l'Art Contemporain held a major retrospective of her artwork.
Her Sydney Opera House visit will be her only solo event on her sold out Australian tour.
Patti Smith: In Her Own Words is co-presented by Sydney Opera House and Bloomsbury Publishing with event partners The School of Life and Sydney Writers' Festival.
---
---