Shelf Awareness
Bezos Tops Vanity Fair's 'New Establishment' List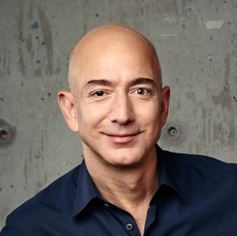 Amazon CEO Jeff Bezos tops Vanity Fair's "
The New Establishment
" list for 2016. "When the disrupters become the disrupted, and everyone's in the tech business, it's time for a shake-up in Vanity Fair's annual ranking of Silicon Valley hotshots, Hollywood moguls, Wall Street titans, and cultural icons," the magazine wrote.
In addition to his experimentation with space rockets and artificial intelligence, Bezos was cited for Amazon turning a profit in five consecutive quarters and for "planning a family book club. (He and his wife, MacKenzie, have four children.) On their reading list? Grit by Angela Duckworth, about 'the importance of passion and perseverance,' he says."
---
Obituary Note: Graham C. Greene
Graham C. Greene,
CBE, a publishing industry veteran who was described as a "great cultural ambassador," died October 10, the Bookseller reported. Greene, former managing director at Jonathan Cape and chairman of Chatto, Bodley Head & Cape, also served as president of the Publishers Association and the International Publishers Association, and as chairman of the British Museum.
A board member of Ed Victor Ltd. since the founding of the company in 1976, Greene was praised by Ed Victor as "wonderfully wise" with a "very sly sense of humor" and "a solid rock I depended on for advice.... He was not just my friend, he was my mentor for many years. People don't really remember any more the amazing contributions Graham made to the publishing business."
Greene's son and stepdaughter, Alexander Greene and Charlotte Horton, said he "was a great cultural ambassador. His interests lay in many fields across the arts and politics. He was a kind friend and a wise mentor to a vast and varied number of people from all walks of life from all over the world. He will be missed."