First Folio on Display in Leeds
In keeping with the rest of the country the University of Leeds is displaying to the public Four Shakespeare folios, which they own, for the first time.

They include a copy of the First Folio, the first collected edition of Shakespeare's plays which was printed seven years after his death in 1616. The items were left to the university by wealthy industrialist Lord Brotherton of Wakefield in 1930.

They are on display in a new exhibition being held to coincide with the 400th anniversary of Shakespeare's death entitled:- "For All Time: Shakespeare in Yorkshire" which runs at the Brotherton Gallery at the University of Leeds until January.
The annual York National Book Fair, the largest in Europe, will open on Friday 16th September 2016 at the Knavesmire Suite, York Racecourse in York. If you have not been to this event before, please give it a try and buy a book! It is a must for book lovers and those seeking books, maps and images, indeed all things to do with paper. It is on for just two days.

Now in its 42nd year, this year's fair features the largest ever number of exhibitors. Over 220 leading dealers will gather to offer rare, antiquarian, unusual and hard to obtain items on all conceivable subjects. Items, which will be on sale at the fair, range between the truly rare and expensive and the affordable, but still treasured, find and cover every imaginable subject.
There are lots of items that have caught my eye, that will be at the fair for sale and that are already showing as for sale on the book fair's website. For instance, In line with the upcoming film of Swallows and Amazon's Mark Westwood of Sedbergh will have on his stand a selection of Scarce Swallows and Amazon titles including Arthur Ransome's

The Swallows and the Amazons

. A transcription of an early draft of

Swallows and Amazons

held at Abbot Hall. Amazon Publications 1997. Then as the year of centenary of the battle of the Somme war comes to an end, York Modern Books topically have on their stand a pristine copy of Siegfried Sassoon's

Memoirs of an Infantry Officer

, Faber & Faber. 1931 as well as some great postcards of the Suffragettes 1908. There are children's books, design titles and books about explorers, science and discovery. So there should be something for everyone.
As well as the books for sale, paper makers making wonderful marbled papers, calligraphers and bookbinders will have exhibition stands at the fair and early bird visitors to the fair on Friday lunch time will be entertained before the fair opens by one of York's well known folk duos "The 2 Bobs" who regularly play gigs at The Habit in Goodramgate, York.
The Racecourse venue is light and airy with lots of parking. For those coming by train, or just wanting access to and from the town, there will be a free shuttle-bus about every 20 minutes from town to the venue. This operates between the Memorial Gardens bus stop near York Railway Station and the Racecourse. Food is served all day. This allows visitors to attend the fair and visit the City Centre's second hand bookshops. Come and visit. Food is served all day. When you have got your bag of books just across the field is the CAMRA Beer Festival to visit too – held from September 14-17 in the new purpose-built course enclosure directly opposite the grandstand at York Racecourse.
A rare and exciting collection of Modern Books and Works of Paper will be auctioned at 1pm on 29th September 2016 at Dreweatts & Bloomsbury Auctions' London base, Bloomsbury House, 24 Maddox Street.
Expected to reach between £20,000 to £30,000 is author Graham Greene's own proof copy of best selling novel,

The Heart of the Matter

(Lot 104). This auction highlights an amazing collector's piece, with Greene's corrections and the inscribed first edition showing how these corrections came into effect. The inscription to Greene's editor Frere reads: "For Frere with gratitude and affection from Graham Greene, April 1948."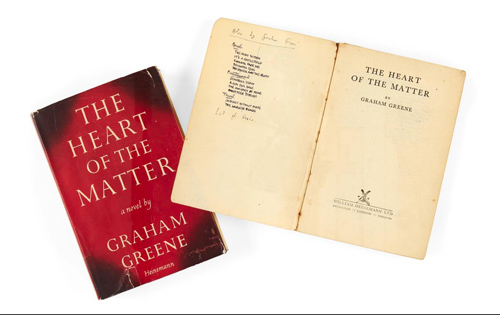 Ian Fleming's copy of Daniel Defoe's

The Fortunes and Misfortunes of the Famous Moll Flanders

(Lot 78), inscribed by Fleming to his (future) wife, Ann is estimated at £3,000-£4,000. The inscription reads "A. p.27 / 'Thou foolish child, thou / art always crying'. / I." .An intriguing combination of book and inscription, taking into account the books salacious nature and considering that, at the time of the inscription, Ann and Fleming were involved in a passionate adulterous love affair. One presumes it must pre-date the tragic death of their daughter at birth, as Ann later said that it was Fleming's kindness at the time that led her to truly fall in love with him, and this would not seem the most obvious gift in such circumstances, though the quote might suggest otherwise. Ann divorced Lord Rothermere in October 1951 and married Ian on March 24th 1952, Fleming finished writing Casino Royale six days beforehand on March 18th, utilising the pre-wedding nerves as a spur to creativity.

A further auction highlight is a first edition of Fleming's

On Her Majesty's Secret Service

(Lot 92) inscribed to his friend John Hayward (1905-65): "To / John / To pick holes in! / from / Ian." 1963, estimated at £6,000-8,000.

An important collection of Rudyard Kipling works, the property of a prominent Kipling scholar and member of the Kipling Society, will also be on offer. Highlights include Lot 2, a first edition of Rudyard Kipling's first book from 1881,

Schoolboy Lyrics

, estimated at £1,800-£2,200.

Kipling's

The Jungle Book

[The Second Jungle Book], estimated at £1,000-£1,500, and Kipling's

His Excellency

, (lot 24) estimated at £1,000-1,500.
Numerous editions of Harry Potter will be up for auction, including

Harry Potter and the Order of the Phoenix

, first edition, signed by the author on title, with signatures of cast members, Daniel Radcliffe, Emma Watson, Rupert Grint, Tom Felton and Richard Griffiths (lot 149) expected to reach £2,000-£3,000.
Among the works on paper highlights is lot 391, an excellent illuminated Hebrew manuscript, presented to Sir Herbert Samuel following his appointment as His Majesty's first High Commissioner of Palestine in 1920. The manuscript offers a wonderful insight into the hope and aspirations that many of the Jews in Israel held in anticipation of the appointment of "the first Jewish Governor of our Holy Land in two thousand years…We express our deep thanks to your Excellency's government for selecting you to carry out the promises that were given to our people in the Balfour Declaration. Your arrival heralds a new era in the history of our people and country. We hope…the gates of Jerusalem shall be rebuilt and you will help in returning Israel to its borders, instill justice and law in our land and under your leadership Jerusalem the Holy City shall become a light and glory to all nations so that Israel may dwell in safety in its land. The nation of Jerusalem looks up to you with much trust and affection. "The style of illustration is reminiscent of Ze'ev Raban, possibly undertaken by someone from the Bezalel school, and the manuscript is estimated to reach £4,000-£6,000.

Also included will be a fascinating, and far reaching, private archive of original illustrations for children's books. A nostalgia for the imagery of our childhood has been generated by the runaway success of the recent "adult" updates of the Ladybird books, and there is much here that will appeal to the same interest. Whether it is a group of around 30 gouache designs by Angus McBride to illustrate the history of technology (lot 275), estimate £500-£700, a small group of dramatic depictions of pirates, smugglers and robbers (lot 298), estimate £300-£400, or a group of around 25 sporting figures, mostly footballers from a bygone era (lot 238), estimate £400-£600, there will be something to appeal to anyone's formative obsessions. This large collection also includes artwork for popular characters appealing to an even younger audience, such as Rupert Bear, Sooty, Victoria Plum, several lots of Disney inspired early learning books, animal books, including over 50 original illustrations for "Animal Frolics" by D.L. Davie (lot 224), estimate £750-£1,000, and many more besides.
To Contact Ibookcollector



Ibookcollector

© is published by Rivendale Press