Rugby 'Rules' OK!
A book which details the original rules for the game of rugby in its formative years sold for thousands of pounds at auction. The Laws of Football as Played at Rugby School fetched £13,000 which was more than ten times its guide price at an auction in Cardiff.

Dating from 1851, the inside cover of the book shows a signature from William Henry Waddington who was a former prime minister of France who attended Rugby School. The school's archivist, Rusty MacLean, confirmed to the auctioneers Roger Jones & Co the inscription was genuine.

The introduction reads: "Rather as a set of decisions on certain disputed points in football, than as containing all the laws of the game, which are too well known to render any explanation necessary to Rugbaeans (sic)."

Focal Point: Early Experimental Photographs Of Julia Margaret Cameron on Sale at Bonhams.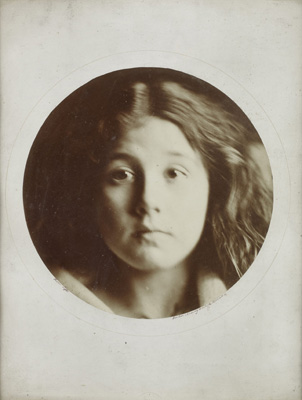 An important collection of photographs taken by Julia Margaret Cameron as she developed her earliest photographic techniques will appear in the Fine Books, Manuscripts and Original Illustrations auction at Bonhams, Knightsbridge on 15th June. The group, which includes one of the very first photographs that Cameron took and printed, has an accompanying note by Cameron, which credits her achievement to her subject: 'my first perfect success in the complete photograph owning greatly to the docility & sweetness of my best & fairest little sitter.'

Also being offered in the sale is one of Cameron's most accomplished and recognisable works from her ground-breaking series of life-sized portraits: a 12-inch diameter print of Kate Keown. Estimated at £30,000 - £50,000, it was Cameron's fifth photograph in the experimental 'head' sequence and is one of the earliest instances of a natural face being the subject of study.

Several photographs by Alice in Wonderland creator Charles Dodgson, will also be featured in the sale - one capturing the son of Julia Margaret Cameron's close friend and neighbour, the writer Henry Taylor, in the doorway of their home on the Isle of Wight. Another, showing his frequent model Evelyn Hatch leaning against a chair, appears to be one of the final photographs that Dodgson took before inexplicably abandoning his much-loved hobby in 1879.

The sale will also include one of the most unique and quirky curiosities of Dodgson ephemera to have ever come up for auction: his concave distortion mirror… a looking glass that elongates, warps or flips your reflection depending on its angle.

For more information about the sale, visit: http://www.bonhams.com/auctions/23576/ or call 0207 393 3828.
Poetry Viewing
Poetry manuscripts written by Dylan Thomas which have been kept out of the public eye are to go on display. Last Saturday's 'Dylan Day' offered the first opportunity to view the previously unseen documents at the Swansea University library on the new Bay Campus. Now they are to be transferred to the University's Singleton Campus where they will be housed in the Richard Burton Archives, which is already home to a previously "lost" Dylan Thomas notebook.

Although the weekend offered an initial chance to view the document, they are now being sent away to be digitised before taking up their place in their new home. The university will open them up for public viewing by appointment later this summer on a date to be announced.

Ibookcollector © is published by Rivendale Press.