Tearing Down the "Electronic Cottage"
By Evgeny Morozov

|

Posted Monday, Dec. 31, 2012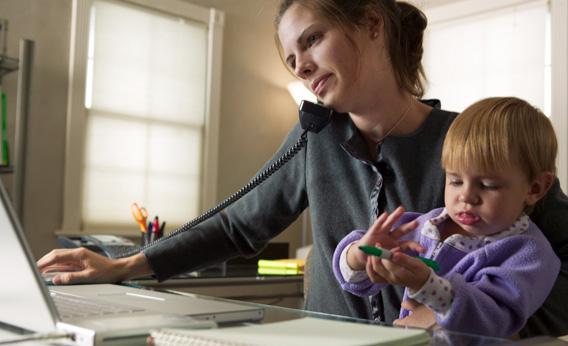 Is working at home as good as it sounds?
Photodisc/Thinkstock.


The early case for telecommuting—made most prominently by Alvin Toffler in his best-selling The Third Wave in 1980—had a strong romantic flavor to it. For futurists like Toffler, the home office would be an "electronic cottage" that might "glue the family together again," provide "greater community stability," and even trigger a "renaissance among voluntary organizations." Forget about bowling alone: In Toffler's future, we'd all be telecommuting together! (Toffler, it must be said, was only popularizing ideas that had been aired many decades earlier. For example, Norbert Wiener, the father of cybernetics, had already speculated in his landmark book The Human Use of Human Beings about how an architect in Europe might use a fax-like machine to supervise the construction of a building in America.)
The business press eagerly swallowed such stories of emancipation through technology; the San Jose Mercury News enthused in 1983, "Home computers are nurturing working mothers." Back then, it didn't seem unreasonable to expect that the "electronic cottage" might one day allow us, as Karl Marx once famously put it, "to hunt in the morning, fish in the afternoon, rear cattle in the evening, criticise after dinner." For Toffler and his followers, humans would use computers to get more work done in less time while bypassing the alienating experience of a 9-to-5 city job.


It would be fair to say that Toffler's dream—let alone Marx's—is still a long way off. In some limited form, of course, telecommuting has taken off quite handsomely. Earlier this year, a poll from Ipsos/Reuters found that about one in five workers around the globe telecommutes frequently—a practice especially common in the Middle East, Latin America, and Asia. Even there, many telecommuters worry that the lack of face-to-face contact with their bosses would hurt their chances of promotion. (One caveat on telecommuting research: Each study defines it slightly differently. In this case, it refers to "employees who work remotely from their office, communicating by email, phone or online chats, either daily or occasionally.") Pollsters didn't ask, but it seems reasonable to assume that few of those workers think of themselves as living in an "electronic cottage" of any kind. One of the reasons for it is that relatively few firms have fully embraced telecommuting. Sure, many permit employees to spend every second Friday working from home, but they still require some face time in the office.
Full article at Slate.