Centre for art form that combines crafts of papermaking, typesetting and bookbinding inspired by founder's US road trip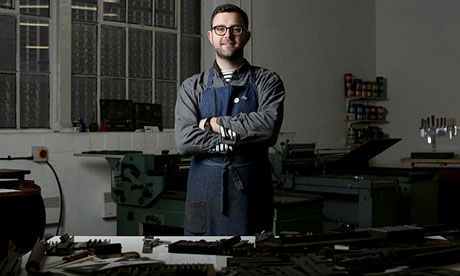 Some people travel the US to see the sights and bright lights, to maybe lose themselves in the kitsch of Vegas or Hollywood's craziness. Simon Goode, on the other hand, roamed the country to explore the joys of papermaking, typesetting and bookbinding.
"The trip was like a holy grail," he said, rhapsodising over three months travelling from New York to Los Angeles on a mission that has helped result in Britain's first ever centre for a craft that is in danger of disappearing: book arts.
That term may be a mystery to some. "It is a difficult one to define and still, to this day, a lot of people don't know exactly how to define it," admits Goode.
Essentially, it is creating art in book form. "Then you've got the question, what is a book?" he added. "My experiences define it as using traditional techniques, like bookbinding and letterpress making – but not wholly, and not exclusively – for artists to produce their own works."
If that's still fuzzy, then Goode hopes people might just come along to his centre to explore an art form whose practitioners have included Richard Long, David Hockney and Ed Ruscha, whose first artist's book was Twenty-Six Gasoline Stations, which featured 26 photographs of just that. In the UK, the largest number of artists' books is held by the V&A, while Tate has about 5,500