———————————
The Summer Bloomsbury Book Fair
The Summer Bloomsbury Book Fair takes place on Sunday 4th June at the Royal National Hotel, London WC1H 0DG. The last of our summer extravaganzas the fair promises to be a great event to come and wander the aisles to browse and buy. With dealers from all over the UK, Europe and further afield there is plenty to come and forage and find!

Our exhibitors will have some of the very best books, maps, prints, ephemera, and photographs on offer as well as auctioneers and bookbinders exhibiting in one great venue. The fair always draws an excellently diverse selection of browsers, buyers, bibliophiles and booksellers from the UK and beyond, the summer fair will just be bigger and better than usual!

Doors are open from 10am until 4pm. Admission is £2 until 12.30 and thereafter is free. Check the
website
for all details, plus Dealer Highlights, and full Exhibitor List including contact details and specialisms, or phone Kim 01707 872140.
———————————
Forum Auctions – Modern Literature Online sale, Thursday 1st June
Last chance to bid on the 95 lots on offer in Forum's online only sale of Modern Literature, which ends on Thursday 1st June.

For Americans, there is a nice pair of signed autobiographies by presidents Reagan and Clinton (lot 2).
For Africans, a rebound copy of Karen Blixen's classic

Out of Africa

, 1937 (lot 8) might appeal.
For Czechs, lot 12 comprises a group of 28 works by their esteemed writer Karel Capek and lot 27 features 8 works by Jaroslav Hasek.
For the Irish, there are 4 lots (28-31) by Seamus Heaney as well as the final 2 lots of the sale by W.B. Yeats. Oh, and James Joyce's Finnegan's Wake (lot 33). And a couple of Oscar Wilde lots.
For Germans, lot 34 contains 13 books by Franz Kafka (born in Prague but wrote in German!).
For Swedes, a large lot of crime fiction (lot 38) is headed by Stieg Larsson.
For the Scots, a group of 25 books by poet Hugh MacDiarmid (lot 61) might be tempting
For Italians, a special edition of Monteverdi's opera

L'Incoronazione di Poppea

(lot 66)
For the Welsh, 2 books by poet R.S. Thomas make up lot 84
For the French, a third (but exceptionally rare) English edition of his classic

Twenty Thousand Leagues under the Sea,

1873 (lot 86)
And for the English, plenty of choice: Evelyn Waugh, H.G. Wells and Virginia Woolf (and those are just the ones beginning with W)

The full sale is on view at Forum's premises in Queenstown Road, Battersea until the sale itself starts at 1pm. For further details or to view the catalogue, please visit
www.forumauctions.co.uk
———————————
Book Collecting
Honey & Wax, are interested in the evolving role of women in the rare book trade, on both the buying and selling sides. The American book collector Mary Hyde Eccles, the first woman elected to the Grolier Club, noted that a collector must have three things: resources, education, and freedom. Historically, she observed, "only a few women have had all three, but times are changing!"

Honey & Wax wish to encourage the next generation and have announced an annual prize of $1,000 to be awarded to an outstanding book collection conceived and built by a young woman. The contest is open to women book collectors in the United States, aged 30 or younger as of January 1, 2018. Contestants do not need to be enrolled in a degree program, nor do they require a sponsor.

There are a number of criteria which must be followed and these include the fact that the collection must have been started by the contestant, and all items in the collection must be owned by her. A collection may include books, manuscripts, and ephemera; it may be organized by theme, author, illustrator, printing technique, binding style, or another clearly articulated principle. Collections will not be judged on their size or their market value, but on their originality and their success in illuminating their chosen subjects. The prize rewards creativity, coherence, and bibliographic rigor.

Contestants should submit the following by the deadline of July 15, 2017
www.honeyandwaxbooks.com/prize.php
———————————
Senate House Exhibiiton
This year, Senate House Library, at the University of London, Malet Street, marks the 500th anniversary of the Protestant Reformation with a new exhibition and events season. The period, which is thought to have been set in motion by Martin Luther's publication of the

Ninety-fiveTheses

, created a division in the Catholic Church and across Europe.

Focusing on London through the sixteenth and early seventeenth centuries, this exhibition traces the impact of the Reformation on culture and society; the way its communications industry drove change; and the consequences of the emergence of a new world order.

Free exhibition from 26 June – 15 December 2017
———————————
Books Become Art at Swann Galleries' Art, Press & Illustrated Auction
Swann Galleries has announced highlights from their June 13 auction of Art, Press & Illustrated Books, which will feature premier examples of printing that elevate the humble book to a noble art form.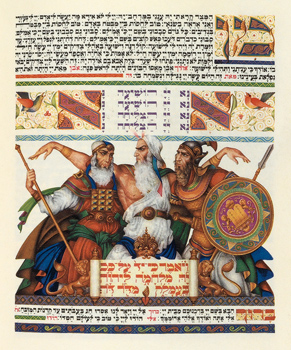 The sale is led by an inscribed limited first edition on vellum of Arthur Szyk's

Haggadah

, 1939, with 14 jewel-like full-page color plates by the artist. The work was illustrated by Szyk in Poland in the mid-1930s, and has been called the most celebrated modern Haggadah; it carries an estimate of $15,000 to $25,000.

An outstanding selection of press books by Bernhardt Wall from the Natalie Williams Collection features a number of presentation copies, including the 85-volume magnum opus

Following Abraham Lincoln 1809-1865

, with over 900 signed etchings ($10,000 to $15,000), as well as the signed complete set of

The Etcht Miniature Monthly Magazine

, 1948, ($3,000 to $4,000). A selection of Wall's personal sketchbooks from the 1920s offers a glimpse into the mind of the artist. Further editions by fine private presses of the twentieth century include works from Doves and Gemini to Granary, Limestone and the Limited Editions Club.

A collection of French livres d'artiste includes a signed limited first edition of Henri Matisse's

Cinquante Dessins

, 1920, with 50 images of his work, valued at $3,000 to $4,000, as well as

Amour

, 1899, by Maurice Denis, a complete set of 13 color lithographs illustrating a poem by the author to his wife ($10,000 to $15,000). Also available are works by Jean Cocteau, Jean Dubuffet and Raoul Dufy.

There is a fine selection of art journals and magazines, most notably the complete set of 12 volumes of the Art Deco periodical

Feuillets d'Art

, 1919-22, estimated to sell between $3,000 and $4,000. Portfolios include Salvador Dalí's limited edition

Le Quête du Graal

, 1975, with 12 color drypoints ($12,000 to $18,000). Also by Dalí is a limited special edition of Dante's

La Divina Commedia

, bound in sculptural copper covers and printed on paper salvaged from the flood of Florence in 1966, valued at $6,000 to $9,000.

Mexican surrealist Nahui Olin (pseudonym of Carmen Mondragón) was a muse of Diego Rivera and an accomplished artist in her own right. In collaboration with her lover, Dr. Atl (a pseudonym meaning the Aztec word for water), she produced

Optica Cerebral: Poemas Dinámicos

, 1922, here offered in the exceedingly rare first edition, signed and inscribed to publisher, writer and politician José Martinez Sotomayor ($6,000 to $9,000).

Three volumes of the influential French fashion magazine

Gazette du Bon Ton

, 1912-14, featuring several single and double-page pochoir plates, as well as seven original watercolor vignettes by George Barbier, are together valued at $8,000 to $12,000.

Several nineteenth-century American manuscript folios will be available, including Miss Ann Postley's

Album

, 1828, with six illustrations by Charles A. Baudouine—considered the first "interior designer"— and

Gathered Blossoms

, 1853, a handmade book of poems and illustrations by Pennsylvanian Thomas Lloyd Bailey for his fiancé, Caroline A. Smith (each $1,000 to $2,000). A group of 13 drawings on vellum for a German calendar titled

Das Jahr une siene Kinder

("The Year and Her Children"), 1880s, by Frau Allwine Schroedker, accompanies the published calendar; together they are valued between $4,000 and $6,000.

The contemporary selection will feature a May 1970 issue of

Gay Power

, the cover of which is illustrated by what is believed to be Robert Mapplethorpe's first published photograph, valued at $2,000 to $3,000, and a limited edition catalogue, encased in a briefcase with assorted accoutrements, released in celebration of the thirtieth anniversary exhibition at the Walker Art Center, titled

In the Spirit of Fluxus

, 1993 ($1,000 to $1,500). Another scarce exhibition catalogue makes an appearance:

Masters of Abstract Art: An Exhibition for the Benefit of The American Red Cross

, 1942, features essays by noted artists including Stuart Davis, Fernand Léger, Jacques Lipchitz, and Piet Mondrian. On offer is a copy of the catalogue, signed by several of the contributors and artists, expected to sell between $5,000 and $7,000.

A signed and inscribed limited first edition of

Grapefruit

, 1964, one of Yoko Ono's scarce performative and conceptual "event scores"—written instructions or suggestions for acts for the "viewer" to recreate—is valued at $4,000 to $6,000.

The auction will be held Tuesday, June 13, beginning at 1:30 p.m. The auction preview will be open to the public Friday, June 9, from 10 a.m. to 6 p.m.; Saturday, June 10, from 12 p.m. to 5 p.m.; Monday, June 12, from 10 a.m. to 6 p.m.; and Tuesday, June 13, from 10 a.m. to noon.
An illustrated auction catalogue is available for $35 at
www.swanngalleries.com
.

For further information and to make advance arrangements to bid by telephone during the auction, please contact Christine von der Linn at 212-254-4710, extension 20, or via e-mail at
cv@swanngalleries.com
.
———————————
Jane Austen's Wedding Rhyme
A short poem which Jane Austen wrote for the amusement of her family regarding the wedding of Mr Gell of Eastbourne to Miss Gill is to be sold at auction.

Jane Austen was taken by the similarity of the surnames and wrote:-"f Eastbourne, Mr Gell / Feeling perfectly well / Became dreadfully ill / For the Love of Miss Gill. / So he said with some sighs / I'm the Slave of your i.s / Ah! Restore if you please / By accepting my e.s."

Austen wrote the ditty in 1811 whilst she was staying at her brother's property Chawton. It sold for £520 in 1979 but is now to be sold by Jarndyce Antiquarian Booksellers at the ABA International Antiquarian Book fair at London's Olympia this week.
To Contact Ibookcollector



Ibookcollector

© is published by Rivendale Press.