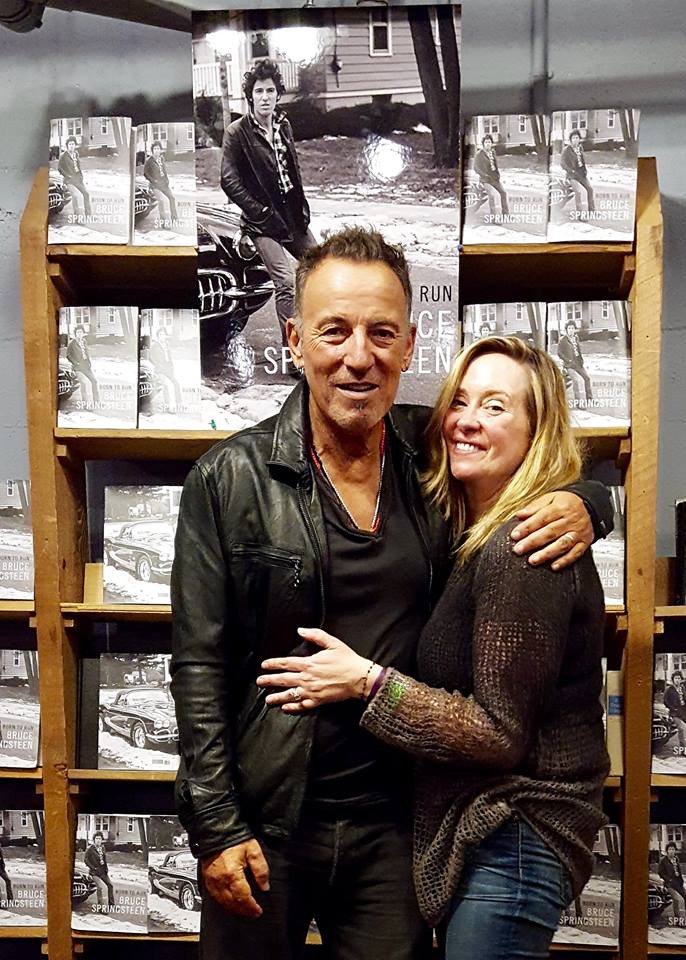 Shelf Awareness publisher Jenn Risko (r.) reports on a remarkable event:
On Saturday,
Elliott Bay Book Company
, Seattle, Wash., hosted Bruce Springsteen, to celebrate the publishing of his amazing memoir, Born to Run (Simon & Schuster). Two thousand fans came from all over the world, forming lines that snaked two city blocks and spilled into a local park. A legion of volunteers, including reps from other houses (Judy Hottensen, Grove Atlantic, Ruth Liebmann, PRH) and even other local bookstore employees, helped with the event. Bruce showed up early and tirelessly greeted fans for more than four hours.
My daughter Lily and I helped return people's personal items in coat check right after they met The Boss. Many of them were shaking, teary-eyed, and so bliss-ninnied out that they could barely collect themselves to pick up their belongings or find the exit.
Numerous volunteers offered the same, "I've never given more hugs to people I've never met before." We gave Bruce a standing ovation after taking the group photo with the volunteers, and we finally got a glimpse of the rock star he is when he gave us a drum roll with his hands and pointed to the sky before, well, running off.
Upon returning home, I asked my husband, "How did we end up with another Bruce book?" He looks at me amazed, and says, "Jenny, you were given one after meeting Bruce and you never stopped clutching it to your heart." Elliott Bay folks, not only do I owe you my gratitude for an unforgettable day, but I owe you a check for the book this Jersey fan girl accidentally stole as well.
Shelf Awaremess