Nobel Literature Prize Goes to Bob Dylan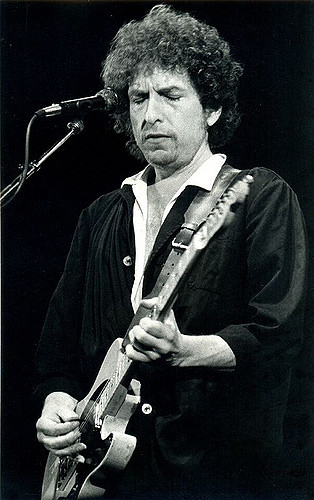 Bob Dylan (via)
The 2016
Nobel Prize for Literature
has been awarded to singer-songwriter Bob Dylan "for having created new poetic expressions within the great American song tradition."
In an interview after the announcement, Sara Danius, Permanent Secretary of the Swedish Academy, described Dylan as "a great poet in the English speaking tradition.... He embodies the tradition, and for 54 years he has been at it, reinventing himself, creating a new identity." She cited his album Blonde on Blonde as a good place to start and "an extraordinary example of his brilliant way of rhyming and putting together refrains, and his pictorial thinking."
Asked whether the choice of Dylan, who is not known for novels or "poetry in the usual sense," has widened the horizon for Nobel Laureates, Danius replied: "It may look that way, but really we haven't.... If you look back, far back, some 500 years or so, you discover Homer and Sappho, and they wrote poetic texts that were meant to be listened to. They were meant to be performed, often together with instruments.... but we still read Homer and Sappho, and we enjoy it. Same with Bob Dylan. He can be read and should be read."
The Guardian noted that the Academy may have been "looking to forestall criticism of the fact that
Dylan is largely seen as a musician
rather than an author" by stressing in its press release that Dylan's lyrics have "continuously been published in new editions," and that "besides his large production of albums, Dylan has published experimental work like Tarantula (1971) and the collection Writings and Drawings (1973)," as well as "the autobiography Chronicles (2004), which depicts memories from the early years in New York and which provides glimpses of his life at the center of popular culture."
In addition to the numerous books on Dylan's life and music already in print, a well-timed title is set to appear next month when Simon & Schuster releases an annotated edition of The Lyrics: 1961-2012.
And from Publishers Lunch
The Nobel Prize for Literature
was awarded
on Thursday to singer-songwriter

Bob Dylan

, the first American to win the prize in more than two decades since Toni Morrison won in 1993 -- and the surprise culmination of years of far-out betting speculation.

The Swedish Academy commended Dylan "for having created new poetic expressions within the great American song tradition," while secretary Sara Danils later added, for those expressing surprise at their choice, that "if you look far back, 5000 years, you discover Homer and Sappho. They wrote poetic texts which were meant to be performed, and it's the same way for Bob Dylan. We still read Homer and Sappho, and we enjoy it."

Simon & Schuster, Dylan's longtime publisher, was set to release the updated and revised version of Dylan's
The Lyrics: 1961-2012
-- now priced at $60, after the first version was released as a limited edition in 2014 priced at $299 -- on November 8, but spokesperson Adam Rothberg tells us "we will be accelerating publication" with a new release date still to be determined. And S&S publisher Jonathan Karp said in a statement: "We congratulate Bob Dylan on this extraordinary honor. For decades, he has fused poetry and music with groundbreaking artistry."

Dylan's win was announced hours after 1997 Literature Prize winner

Dario Fo

, 90,
died
in Milan.