University of Calgary acquires rare 15th century book
The University of Calgary's Libraries and Resources (LCR) has acquired a rare copy of the

Polychronicon

, one of the earliest books ever printed in English. It was originally written in Latin by Ranulf Higden, translated into English by John Trevisa and printed in Westminster, England by Wynken de Worde in 1495. This is the first English incunable that has been acquired by LCR.

"We are fortunate to not only acquire a significant early printed work of medieval history, but also to acquire one that is written in English, the first English incunable we've acquired," explains Annie Murray, associate university librarian for Archives and Special Collections. "This English translation of the

Polychronicon

is both an accessible text and a fascinating historical object."

Annie Murray, associate university librarian for Archives and Special Collections, led a manuscript and incunabula workshop at Congress 2016. It is thought that many scholars do not understand the language in early-printed books, so the texts are often studied more as historical artifacts than works of literature. The fact that the

Polychronicon

is in English enhances its teaching and research value.
———————————
"America Reads"
An 1830 edition of the

Book of Mormon

is scheduled to be part of the Library of Congress' "America Reads" exhibition which is to open 16 June 2016. According to a news release the 65 books in the "America Reads" exhibition are some that have had a " profound effect on American life." Of those included in the exhibit, forty were chosen by the public, including the

Book of Mormon

, Laura Ingalls Wilder's

Little House in the Big Woods

, John Steinbeck's

Of Mice and Men

and

East of Eden

, Arthur Miller's

Death of a Salesman

and

The Crucible

, Ernest Hemingway's

The Old Man and the Sea

and Madeleine L'Engle's

A Wrinkle in Time

.

Twenty-five other titles were chosen by the public from a list created for the 2012 Library of Congress exhibition "Books That Shaped America." Those include L. Frank Baum's

The Wonderful Wizard of Oz

, F. Scott Fitzgerald's

The Great Gatsby

, Theodore Geisel's

The Cat in the Hat

and Dale Carnegie's How to

Win Friendsand Influence People.
———————————
Woolf and Sassoon to make waves at Bonhams.
A letter written by Virginia Woolf to Siegfried Sassoon inviting him to dinner at Hogarth House will begin an extraordinary section dedicated to Woolf in the

Fine Books, Manuscripts and Original Illustrations

auction at Bonhams, Knightsbridge on 15th June. Estimated at £4,000-£6,000, the letter urges Sassoon to accept their invitation and seeks to allay his concerns about the perceived intellectualism of the Bloomsbury set: 'You exaggerate the horror of our intellectuality. It is only having once lived in Bloomsbury; it does not go deep. I hope'. The dinner would eventually take place in January 1924 and Sassoon would later write in his diary 'the evening was a gossipy affair, very pleasant and unconstrained. V.W. drew me out adroitly, and I became garrulous.'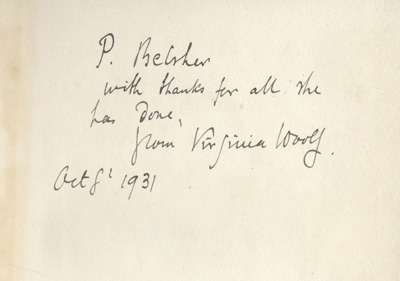 The section will also include the private collection of a descendant of Peggy Belsher, the Secretary and Head Clerk at the Hogarth Press from 1928 to 1936, of whom Woolf was exceedingly fond. In a postcard written to Belsher shortly after she left the Press, Woolf writes: 'I always meant to say how sorry I was that you were going – if for no other reason than you were always so kind to me.'
Woolf's friendship with Belsher is perhaps most palpable in the series of inscribed first editions that she presented to her, in particular her copy of

The Waves

reads: 'with thanks for all she has done'. Other titles presented to Belsher include:

A Room of One's Own

,

Orlando

,

On Being Ill, Flush

and

The Years

.