By Sarah Stuart
New Zealand Herald - Thursday Jan 17, 2013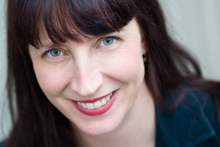 Writer Rachael King, daughter of the late great historian Michael King, completed her BA at Auckland University, paying her way by playing guitar in bands. She has authored two acclaimed adult novels and her most recent book is for young adults.
1. You're the daughter of an author and your mother Ros and stepfather David Elworthy were publishers. Was there any chance you'd become anything other than a writer?
Probably not.
2. You have studied under Albert Wendt, Witi Ihimaera and Bill Manhire. Who, in your opinion, is the best living writer in New Zealand today?
I couldn't possibly say as I haven't read them all and I wouldn't want to offend any of my friends.
3. Is it true that despite your heritage, you weren't particularly good at history at university?
Have you been talking to my lecturers? Yes, sadly it's true that history wasn't a great success for me, but I was so busy playing in my band and waitressing to support myself that it wasn't just history that suffered, it was all my subjects. I wish I had gone to university when I was older and more focused.
4. Did playing the bass guitar save you as a teenager?
I wouldn't say it saved me as I wasn't in any kind of trouble, but at the age of 15 it did help me get out of the shadow of my prettier and more popular stepsister who was the same age as me.
5. What did you learn from your parents?
Self sufficiency - when I was 17 my mother and stepfather moved to the Coromandel and I went flatting, supported myself and had a ball, because they had already laid great groundwork for independence. I also learned that an unconventional life is possible - from when I was about 10 they ran their own publishing business from home, and a lot of colourful characters came and went from our house. From Dad I also learned that you can be a writer and don't have to have a nine-to-five job.
6. What do you hope to teach your sons?
To not be too scared. To take risks. To look after the planet. To cook. To not be dickheads. To respect other people. To listen to good music and read good books. To not be defined by the school they go to. To not take anything for granted. How incredibly lucky they are and to never feel entitled. That boy racers are not cool. That I am not their slave. That intelligent, driven women are way more interesting than merely pretty ones.
7. You've described your work habits as "skittish"; how many projects do you have on the go, and which will come to fruition?
Argh! I've been so skittish the past year. Usually I am very good at focusing on one thing at a time but lately I have been overwhelmed with ideas, and the fact that at the rate I've been publishing, I may only have 10 more books in me. I've started and put on hold so many things ... I have two adult novels in various stages, two children's novels and a crazy project I'm not going to talk about.
8. What are your favourite low-brow pursuits?
I love TV and mostly watch good quality drama, but I confess that I never miss a series of Survivor. I'm obsessed with Doctor Who at the moment.
9. In Red Rocks, your novel for children, is Jake's relationship with his father like the relationship you had with your dad?
There was a time when Dad lived in a cottage by the sea in Wellington and my brother and I stayed with him, so the novel is infused with that definitely. Dad would often shut himself away and write while we played on the beach, and he'd emerge to take us fishing and teach us how to row a boat.
10. You've shared co-parenting with your husband, actor Peter Rutherford. Who had the easier time of it?
We've both had to put things on hold or re-evaluate things in order to raise a family. He's a teacher now, so in the school holidays I get to write more and he gets more time with the kids.
11. What did you learn from the Christchurch earthquakes?
That I don't really feel safe anywhere any more. A hard lesson to learn but better to have 40 years of blissful ignorance first. That is one lesson I will not be passing on to my children. I want them to at least have the illusion of absolute safety for a while.
12.What is your word du jour?
I can tell you what my word du jour is not - "literally". It's everywhere. Sometimes used incorrectly ("He literally bit my head off") but mostly just used redundantly ("He literally yelled at me.").
Recently I read a novel set in the 1920s, and the characters kept using "literally". Somehow I don't think it was sprinkled in conversation quite so liberally as it is today. Please make it stop.