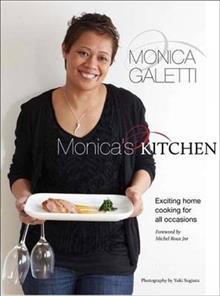 In Monica's Kitchen, Monica Galetti shows how to serve up great-tasting food at home, every day, easily and quickly. Essentially this is a book for those who have limited time to cook, but who enjoy great food, and are constantly looking for fresh inspiration in the kitchen.
Her dishes probably reflect the many and varied influences there have been on her cooking from her Samoan and New Zealand upbringing to her travels in Asia and Europe and of course her experience in a high-end London restaurant.
She presents her recipes in chapters that reflect different situations - from work to table, a leisurely weekend, a time for friends, something different etc.
Gorgeous photography, couldn't resist it it when I found it at UBS Bookshop, Christchurch. Hardback, published by Quadrille, NZ rrp - $50.
Monica Galetti (born in Samoa) is Senior Sous Chef at 2-star Michelin restaurant Le Gavroche in London and is best known for co-presenting and judging BBC Two's MasterChef: The Professionals, along with Gregg Wallace and Michel Roux Jr. The restaurant's name comes from the character Gavroche in Victor Hugo's – Les Misérables.

Galetti is married to David Galetti, who is the Head Sommelier at Le Gavroche in London. They also have one daughter together, Anais Emily.
Galetti trained as a chef in New Zealand. She moved across the world for the chance to work with Michel Roux Jr. at Le Gavroche.
Galetti started as a Commis Chef in early 1999, and since then she has worked her way up through the kitchen ranks to her current role as Sous Chef to Michel Roux Jr. She was the first woman to ever cook on Meat and Fish dishes in Le Gavroche, before setting up Le Gavroche des Tropiques in Mauritius.
In 2009, Michel Roux Jr. took on the judging role for MasterChef UK: The Professional's – for its second series. Galetti assisted on the show where her job was to weed out contestants deemed not good enough to cook for her boss, Michel. Since appearing on the show, she has become something of a sensation. She's fierce, but fair. That's what makes her a favorite to her many fans.
Galetti is one of the best female Chefs in London and has worked for Michel Roux Jr. for the past 12 years. Other notable Chefs who have worked in the kitchen of Le Gavroche include: Marco Pierre White, Gordon Ramsay, Marcus Wareing, Bryn Williams, and Michael Smith.