An e-reader available next year is small, light and costs just £8 - we look at how a prototype measures up against the Kindle
newly announced e-reader called the beagle
generated a lot of interest among readers, publishers and the technology-minded last month when txtr, the Berlin-based firm behind it, announced plans to sell
the device
for just £8 (yes, really) – that's £61 less than the current entry-level
Kindle
. While the price certainly seems right, many bibliophiles wanted to know how well the beagle works for reading ebooks – and how it stacks up against the Kindle.
Though the beagle won't be available in the UK until sometime in the first quarter of next year, I was given exclusive access to a prototype and, after only two days of use, I'm pleasantly surprised to report that the beagle seems like it could be truly disruptive to Amazon's Kindle leadership.
The specs
The txtr beagle will come in a single cream/slate front-facing colour, with the option of four backplate colours (grapefruit, jade green, purple and turquoise). The model I tested had the jade green backplate. Its plastic moulded body feels surprisingly solid in the hand.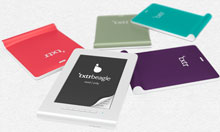 A
Physically, the beagle is much smaller than the Kindle, with a 5in display versus the Kindle's 6in display, and is noticeably thinner along most of its body. It measures 140mm long by 105mm wide by 4.8mm deep. However, the thickness doesn't include the 14mm lip on the bottom, which houses two AAA batteries. The Kindle, by comparison, has dimensions of 165mm x 114mm x 9mm.
Display
The screen is a 5in eight-level greyscale E-Ink display with a resolution of 800 x 600 pixels. That compares with the entry-level Kindle's 6in 16-level greyscale E-Ink display. Text on the Kindle looks darker because it has twice the greyscale of the beagle. However, both devices have an 800 x 600 pixel display, with the beagle's pixels crammed into a 5in screen versus the Kindle's 6in, giving the beagle a higher PPI (pixels per inch) density - 200 against the Kindle's 167 - resulting in sharper text.
Full detailed review at The Guardian