The Satanic Verses author could make screen appearance at book event after admitting 'intelligence' of threat may be false.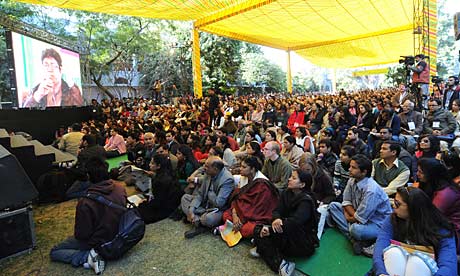 Salman Rushdie
, who was forced to pull out of Asia's biggest literary festival in
India
after authorities revealed "specific intelligence" of a death threat against him, has said he believes the information was false.
"I've investigated, and believe that I was indeed lied to. I am outraged and very angry," the British writer wrote on Twitter.
Rushdie was scheduled to be one of the stars of the Jaipur Literature Festival in the capital of the state of Rajasthan, in north-west India.
Two weeks before the event, a senior conservative cleric and Islamic groups began a campaign to stop the 64-year-old author attending, saying his most famous and controversial work, The Satanic Verses, was offensive to Muslims.
The publication of the book in 1988 prompted a fatwa calling for Rushdie to be killed from the Iranian religious leader Ayatollah Ruohollah Khomenini and sent its author into hiding.
Despite festival organisers' efforts to ensure his security, Rushdie pulled out of the event citing "specific information" from "intelligence sources" that assassins had been sent by organised crime bosses to "eliminate" him.
Security experts immediately cast doubt on the claim and Rushdie himself admitted he was unsure of its reliability. He said it would be "irresponsible" to travel to the festival in the circumstances. But there were still hopes on Monday that the author would be able to address the conference by video link.
One of the festival's organiers, the British author William Dalrymple, said on Monday: "Salman is all set to do the video link tomorrow and we are all set to host it. But we've just learned from the Rajasthan government that we need their permission to show it, and we're now in the process of submitting a request.
"We will only stop if the government comes out and formally denies us permission, [and] if permission is denied that will produce a clarity about the Rajasthan government's stand on Salman, which we previously haven't had."
"We fully support Salman Rushdie … The only thing we can't do is break the laws of this country and sadly, reading from The Satanic Verses is an imprisonable, criminal act. We've just heard that complainants have petitioned several different local courts to get the police to file a formal case against the authors and the festival producers, and although no case has yet been filed it is quite serious. The cops turned up within 45 minutes of the readings taking place."
Full Guardian report here.