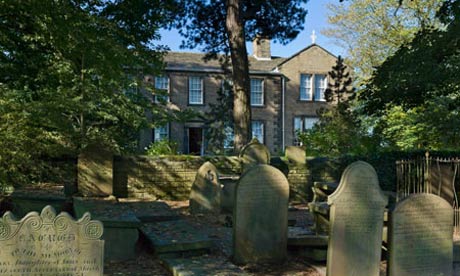 The Rector of Haworth's three daughters were with him last week as he prepared his sermons for Christmas and the new year, given in the church at the top of the steep hill of Main Street.
"Yes, I have three daughters, but they are not Charlotte, Emily and Anne, and happily they have all grown up to have families of their own," said the Rev Peter Mayo-Smith, incumbent at St Michael and All Angels parish church, where 190 years ago the Rev Patrick Brontë lived in the adjacent parsonage with his own three girls, the writers now established as among the most famous Englishwomen ever to have lived. "I did discover I was married on the same day as Rev Brontë married his Maria though, which was rather spooky."
But the Anglican clergyman does not really have to search about for reminders of his celebrated predecessor. Any time he steps into his church he finds 30 or 40 visitors clustered around the floor plaque that marks the early graves of Charlotte and Emily Jane. "It is very definitely a place of pilgrimage," he said. "People leave money and flowers, poems and books, every day."
Leaflets in the West Yorkshire church are being translated into Japanese, Chinese and Korean and visitors from Europe, Australia, New Zealand and America are commonplace.
"We have come here because of the books, of course," say an Italian couple, shaking off the cold rain in the porch of the church on Friday. "I studied them at university and I love them very much.
Wuthering Heights
is my favourite," explains the young woman, who plans to stay for a week. In the old parsonage, which houses the Brontë museum, custodians often have to put up the sign asking tourists to wait outside for 10 minutes because the place is full.
Full story at The Guardian