By
Stephen Jewell
- Weekend Herald - 10 November, 2012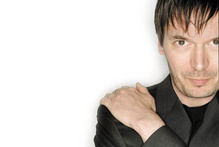 Scottish crime writer Ian Rankin tells Stephen Jewell how he was able to revive the career of his popular hero, who's still looking for the nearest pub.
When I meet Ian Rankin at his publisher's Covent Garden offices, we are just down the road from Peter Gordon's West End cafe, Kopapa. This is fitting because London's flourishing Kiwi cafe culture has spread north of the border and into the pages of the Edinburgh author's bestselling thrillers. His latest, Standing In Another Man's Grave - which features the unexpected return of Detective Inspector John Rebus, pitting him against Internal Affairs officer Malcolm Fox - includes a couple of characters who partake of that ubiquitous Antipodean beverage, the flat white.
"It took off in Scotland about a year ago and I guess it's a marker for anyone who's bored with lattes and wants to move on to something new," laughs Rankin. "It's slightly different but not all that different. It's not something I drink myself but it's something other people might drink. Malcolm Fox might drink it because he's more middle class and sees himself as upwardly mobile but it's not something Rebus would drink. He's not going to buy an expensive coffee - he's too busy looking for the nearest pub."
After allowing him to sail off into the sunset in 2007's 17th Rebus novel, Exit Music, Rankin had no plans to bring the veteran policeman back until real life circumstance intervened.
Full interview at New Zealand Herald