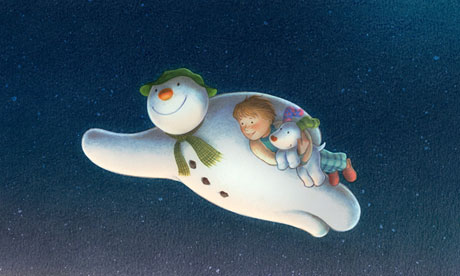 Raymond Briggs, author of The Snowman, which has been a television favourite since its first screening 30 years ago, has endorsed a sequel to be aired at Christmas, calling it "absolutely super".
The new film, The Snowman and the Snowdog, is set 30 years on from the original. It opens with a boy mourning the death of his dog while snow falls outside. He lifts up a floorboard and finds an old scarf with snowmen printed on it, a memento stowed away long ago by another child. Inspired, he goes outside and builds a snowman and snow dog, with a satsuma for a nose and mismatched socks for ears.
The sequel will be shown by Channel 4 along with the original – about a boy who makes a snowman that comes to life and takes him to meet Father Christmas – on Christmas Eve, as tradition dictates.
Writer and illustrator Briggs, 78, told the Observer: "I'm not grumpy about it [the sequel], or the introduction of a new character. It is absolutely super, not sentimental at all. The Snowman's success is about a simple thought. We all have favourite people we become fond of and then they pass away, it touches a chord, of loss – even for young people, someone dies."
Full story at The Guardian