'I never wanted to believe in the gender thing – I thought women could write anything – but now I think there's a conspiracy of small books'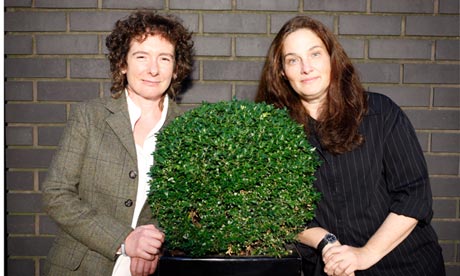 AM Homes was a friend before I met her, in the way that writers you sit with often become friends. The solitary act of reading is a connection. It is intimate and exposing. The writer uncovers something for you. In the silence of reading so much is said.
I read her short story debut,
The Safety of Objects
in 1990. I was 30, excited about finding contemporary women writers, eager to build the personal private library I needed – as a woman, as a reader and as a writer. Men have been writing about women for ever. Here was a woman writing dangerously, provocatively, about boys and men, and using the male persona. That was intriguing.
JW:
Why do you write from the male perspective nearly all the time?
AM:
That is my imagination. It's the place I go. I am comfortable there so I can be uncomfortable there. I find it harder, self-consciously so, to write a female narrator.
JW:
How do men feel about what you do?
AM:
It's interesting – I think I have a lot of male readers (I have no way to know for sure but I like to think I do). Often the letters I get are from men, and they come to the readings. I have male students in my classes. [She teaches at Princeton.] Not the soft romantic types – the geeky math types.
JW:
Is it anything to do with you wanting to get away from the stereotype of women's topics, women's books? Like JK Rowling, you use your initials – she was told to do it otherwise boys wouldn't read her.'
AM:
I just don't think I can be called Amy. Do I look like an Amy? Do I write like an Amy? If I were called Jonathan, it would be easier – given the kind of things I write. We judge the content of what men and women write very differently. A lot of women get mad at me because of the violence. Maybe they never turn on the TV.
I met AM Homes just a few years ago in New York City where she lives with her young daughter Juliet and their dog Lulu. I have had good times with the kid and the dog, and long talks about everything with AM. We are both adopted, and that – as AM puts it – is a cellular unsettling that we share.
Her memoir,
The Mistress's Daughter
, is the story of her biological parents coming to find her. When I was writing
Why Be Happy When You Could Be Normal?
– my own adoption story about going to find my mother – AM warned me that cells have a memory. She said: "You are disturbing the deepest thing in you. It's like a raid on your DNA."
The frightening, unquantifiable, unnameable feelings are a writer's territory, but living them in your own body is like Dr Jekyll drinking the powder and risking becoming Hyde. Rage, fury, violence, powerlessness, are where AM goes in her fiction –
The End of Alice
is the story of a paedophile. Yet in
The Mistress's Daughter,
the spotlight of understanding is turned on herself. She is ruthlessly clear about her own feelings, including, especially, how unclear feelings are.
JW:
Do you remember – you were writing your new book,
May We Be Forgiven
…
AM:
I was writing it for seven years …
JW:
I know. There is a line in it Harry says about wanting to be "a better version of myself". I always believed that's what fiction and poetry could do.
Full piece at The Guardian