Theo Tait delights in 60 years' worth of invention from the one-man band of Scottish letters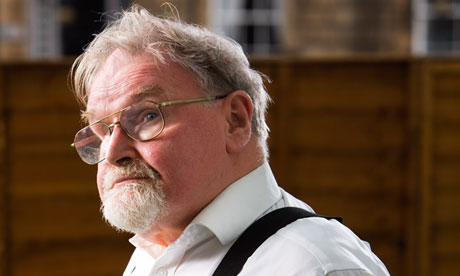 The novelist, playwright, poet, muralist, illustrator, pamphleteer and literary historian
Alasdair Gray
has been called all sorts of things: the 20th century's William Blake, Glasgow's Piranesi, "the greatest Scottish novelist since Walter Scott" (by Anthony Burgess), "a creative polymath with an integrated politico-philosophic vision" (by Will Self), a glorious one-man band, the dirty old man of Scottish letters. On the evidence of
Every Short Story 1951-2012
, we could slap a few more tags on to this bewilderingly varied talent: Glasgow's Borges, perhaps, or Scotland's VS Pritchett.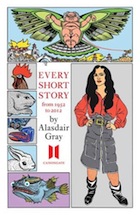 Gray's two best-known novels,
Lanark
and
1982, Janine
, are hybrids in which realism is echoed and amplified by wilder and more experimental forms.
Lanark
, conceived as an epic of postwar Scotland, is a Kafkaesque/Orwellian dystopia wrapped around a naturalistic portrait of the artist as a young man in 1940s and 50s Glasgow. It is now thought of as probably the classic Scottish novel of the late 20th century – a book which dramatised the hollowing out of the Empire's second city and helped make the recent flowering of Scots literature possible.
1982, Janine
, which the author himself regards as his best work, is a lurid sado-masochistic fantasy, punctuated with political rants, which takes place inside the head of a drunken Scottish Tory; all this is set against another beautifully rendered realistic narrative, about the protagonist's sentimental education. The most accessible of his major novels,
Poor Things
, published in 1992, is a historical pastiche, a Victorian reworking of the Frankenstein story.
Gray's collected
short stories
come in at an overwhelming 900 pages, in a handsome quasi-Edwardian hardback designed by the author, and illustrated with his distinctive frontispieces, mocked-up woodcuts, heraldic emblems, totemic symbols and line portraits of strong women. The book illustrates the vast range of his writing – and, it must be said, its sometimes very uneven quality.
Gray is a genius, a born storyteller whether at a visionary or a more down-to-earth level; even the poorest of the stories contains something intriguing or funny. But he's also a chancer and a bodger, given to cobbling together short stories from bottom-drawer leftovers. The incidental pleasures of Gray's books include the author's own commentaries – "critic fuel", he sometimes calls them. The endnote here, a brief critical autobiography (itself rehashed), is typically and charmingly open about his occasional need to rush a book into print in order to pay off debts or fund some other grand project.
Full review at The Guardian