By
Stephen Jewell
- New Zealand Herald Weekender - 17 November, 2012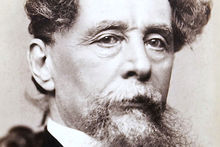 Actor-cum-writer Simon Callow tells Stephen Jewell about his fascination with two very different famous literary icons — and how they share one crucial trait.
When I meet Simon Callow at his club in Covent Garden, I can't help but wonder which of Britain's two leading writers he identifies with the most. The London-born actor and author has dedicated much of his career to bringing the work of both William Shakespeare and Charles Dickens to life, either mounting shows such as his one-man play Being Shakespeare or penning literary analyses of their legacies in his latest book, Charles Dickens.
"They're such different writers," he says. "Dickens was so massively extrovert and he really did set out to conquer the world, while Shakespeare was a more feminine kind of author. He was much more responsive to emotional states and, of course, the language is much more lyrical than Dickens'. Dickens was many, many things but he was not really a poet, while Shakespeare was extremely and sublimely that."
Born nearly 250 years apart, the two authors were products of very different historical eras, with Dickens utilising the development of mass printing technology to cultivate a form of fame that would be easily recognised today.
Full article at New Zealand Herald