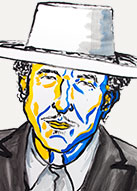 image: N. Elmehed/
Nobel Media 2016
New Nobel Literature Laureate
Bob Dylan finally acknowledged the award
publicly and said he "absolutely" will attend the Nobel Prize ceremony December 10 "if it's at all possible." In an interview with the
Telegraph
, Dylan said of the Nobel announcement: "It's hard to believe."
Dylan "sounds genuinely bemused by the whole ruckus," the
Telegraph
wrote. "It is as if he can't quite fathom where all the headlines have come from, that others have somehow been over-reacting."
When asked if he agreed with the Swedish Academy's choice and permanent secretary Sara Danius's comparison of his contribution to literature with Homer and Sappho, Dylan replied: "I suppose so, in some way. Some [of my own] songs--"Blind Willie," "The Ballad of Hollis Brown," "Joey," "A Hard Rain," "Hurricane," and some others--definitely are Homeric in value."
The Nobel Prize website posted an update late last week noting that
Dylan had called the Swedish Academy
and told Danius: "I appreciate the honor so much."
via Shelf Awareness