Opening of Society of Bibliophiles
The University of London's Society of Bibliophiles is open to all and aims to provide an opportunity for those who are interested in bibliophilia, to meet up with like-minded people.
The society aims to:
Promote all aspects of books, book-collecting and material texts.

To raise awareness and improve knowledge of bibliophilia.

To encourage people to collect books.
Meetings will be held monthly and a programme of events will run throughout the year, including round table discussions, lectures by guest speakers and collection visits.

The details for the launch party have now been finalised and all are welcome to come together for a glass of wine to celebrate the launch of the University of London's first Society of Bibliophiles on Friday 28th October from 7-9pm at the Keynes Library, 43 Gordon Square, London WC1H 0PD.

If you're a collector or just want to see what it is all about, just go along!
———————————
The Shapero Rare Books Summer Sale – August 2016
This August we are rolling back the years with an old-fashioned, offline sale of our finest works of literature both antiquarian and modern, accounts of travel, guidebooks, prints, Russian texts and natural history.

For the month of August a vast amount of our stock (3,792 at the last count) from across all genres will be reduced in price by forty percent. It is important to note that we will not be offering this sale via our website, but do encourage inquiries via telephone and email about further discounted items.

The sale finishes on the 31st of August, so you may need to be quick off the mark! Until then we will be keeping you updated with weekly highlights.

Should you wish to discover more of the items on sale you can call us in the shop directly, Monday to Friday, 10am-5pm.

+44 (0) 20 7493 0876

rarebooks@shapero.com
———————————
Dreweatts & Bloomsbury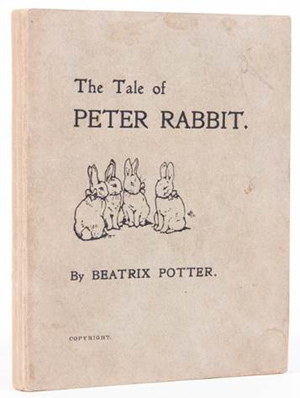 A first edition of Beatrix Potter's iconic work, the

Tale of Peter Rabbit,

has sold at auction for £43,400 – an increase of more than £8,000 on its listed price.

This issue was originally given by the author to her goddaughter, Helen Burton, and is one of only 250 copies from the first printing of one of the most important children's books of the 20th century.

A handwritten letter dated February 1924, from Beatrix Heelis – the author's married name – was estimated to fetch up to £1,200, but sold for £2,700.

These lots were part of a sale of more than 50 items, which included sketches and letters and raised £101,952.

Most of them were amassed by John Cawood from the Lake District, with which Potter had a long association.

Memorabilia was being auctioned to mark 150 years since the author's birth.

Mr Cawood started his collection in 1972 and set out to achieve a complete set of first editions of Potter's books.
———————————
Swann Galleries Travel Posters
An auction of rare antique travel posters will take place on October 27, 2016 at Swann Galleries of New York. One of which is 'The Yorkshire Coast' by Dame Laura Knight.

This was used to promote the London and North East Railways' travel guide,

The Holiday Handbook

, this colour lithograph is a highlight in Swann Galleries' October 27, 2016 Rare & Vintage Travel Posters sale with an estimate of $4,000 to $6,000.

As well as being one of the most celebrated and sought-after British artists of the first half of the 20th century, Dame Laura Knight was the only female artist to be commissioned as an official war artist in both World Wars and, in 1936, became the first woman elected to the Royal Academy. She designed posters from 1921 to 1957 for a variety of bodies, including seven for London Transport and a 1939 recruitment poster for the Women's Land Army.
———————————
Privately printed first edition of Beatrix Potter's

The Tailor of Gloucester
This rare book is one of 500 copies that the author herself had printed and dates back to 1902. The edition, which includes drawings and colour plates, is expected to fetch between £1,200 and £1,800. It will be put on sale by auction house Lyon & Turnbull in Edinburgh to mark Potter's 150th birthday celebrations on August 31st.

Cathy Marsden, a book specialist with the auctioneers, said: "This is an incredible opportunity for someone to buy one of only 500 copies of the first privately printed edition of

The Tailor of Gloucester

. The stories, and twelve water-colours, were finished by December 1901, and Potter gave the manuscript to her friend, Freda Moore, as a Christmas present."

The publisher, Frederick Warne & Co., agreed to publish Peter Rabbit, which proved to be a great success but not wanting to push F. Warne's eagerness too far, Potter decided that she should revise Moore's manuscript copy of

The Tailor of Gloucester

with a view to publishing the work privately, as she had first done with

Peter Rabbit

. Two of the twelve illustrations in the original manuscript were omitted but an extra six were added. The final product, bound in pink paper-covered boards, was privately published in a run of 500 copies in December 1902.