---
Shelf Awareness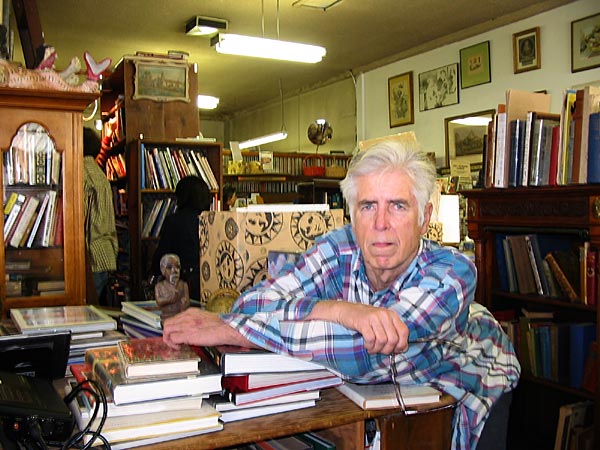 photo: Gloria Hillard/NPR
Bookseller
Dave Dutton
, who ran the landmark Dutton's Books from 1961--when he agreed to put aside his travels in Europe to help manage a bookstore his parents were launching in Los Angeles--until he and his wife, Judy, closed their North Hollywood store 10 years ago, died January 13. He was 79. The
Los Angeles Times
reported that "over the years, he opened shops in other locations but it was the Laurel Canyon store that lasted.... In the mid 1970s, his parents retired and he and Judy took over ownership of Dutton's. They expanded its footprint and its offerings, and eventually filled the space with 350,000 new and used titles. The store was known for its labyrinthine layout and towering stacks of books."
"My dad loved not only literature, but he loved people, and our bookstore was a place for everybody in Los Angeles to gather, and to browse, or just to hang out," said his son, Dirk. "My dad was never in it for the money. He just loved talking books and having fun at the store." His younger brother, Doug, assumed ownership of Dutton's Brentwood in the 1980s, running it until it closed in 2008.
When Dave Dutton was in the process of shuttering his bookstore in 2006, he reflected on the virtues of being an old-school bookseller: "The book business used to be a place where idealists and dreamers of a better world who perhaps didn't like business, didn't admire the business tactics generally necessary to survive, could find a happy compromise."
---
Author
William Peter Blatty
, "whose bestselling book
The Exorcist
was both a milestone in horror fiction and a turning point in his own career," died January 12, the
New York Times
reported. He was 89.
The Exorcist
(1971) sold more than 13 million copies, and a 1973 movie adaptation directed by William Friedkin was also a big hit, earning Blatty an Oscar for his screenplay.
The horror novel also "marked a radical shift" for his career, which he'd already established as one of Hollywood's leading comedy writers. Blatty had collaborated with the director Blake Edwards on the screenplays for four films, and wrote scripts for comedies starring Danny Kaye, Warren Beatty and Zero Mostel.
Blatty's first book, a memoir titled
Which Way to Mecca, Jack?
, had already been published when, in 1961, "he appeared as a contestant on
You Bet Your Life
, the television quiz show hosted by Groucho Marx. He and a fellow contestant won $10,000," the
Times
noted. The winnings freed him to quit his public relations job and become a full-time writer, which led to the publication of comic novels
I, Billy Shakespeare
(1965) and
Twinkle, Twinkle, 'Killer' Kane
(1966). In the
Times
, Marvin Levin had compared him favorably with S.J. Perelman.
After turning down an
Exorcist
sequel offer, Blatty submitted instead a memoir about his mother titled
I'll Tell Them I Remember You
. It was published in 1973, but Blatty soon "felt the first cinch of the horror-writing straitjacket," the
Times
noted. His later books include
Legion
,
The Ninth Configuration
and
Dimiter
. After the death of his son in 2006, he wrote
Finding Peter: A True Story of the Hand of Providence and Evidence of Life After Death