Shelf Awareness
During the Frankfurt Book Fair,
Booksellers New Zealand
made a formal proposal to the
European and International Booksellers Federation
for the EIBF to hold its 2018 Conference in Dunedin, New Zealand. The conference, as envisioned by Booksellers New Zealand, would be a two-day gathering with the theme "Bookselling in the Global Economy of the 21st Century" that would be held in June or July and attract 400 or more delegates from booksellers associations and bookstores around the world.

Booksellers New Zealand said that Air New Zealand and other members of the Star Alliance (including Air Canada, Lufthansa, Singapore Airlines and United, among others) "have joined together to offer special fares for delegates." In Dunedin, the association continued, hotel prices will be "attractive," and the city has "a long history of attracting large, successful, international conferences."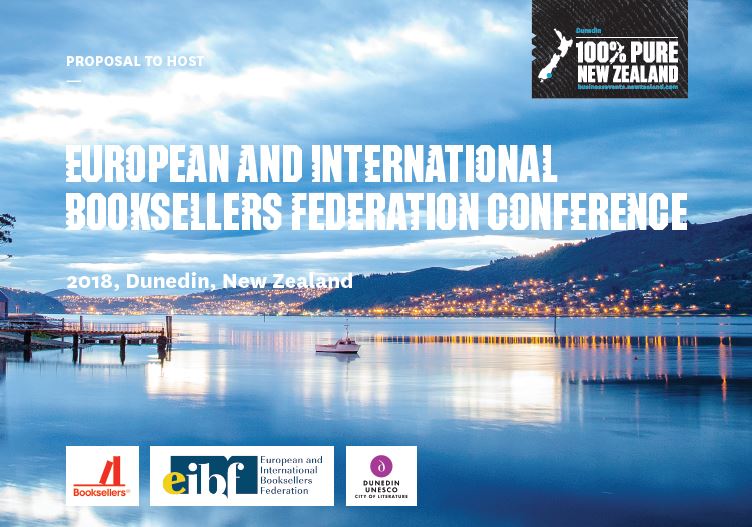 In its proposal, Booksellers New Zealand said that the conference has the support of the New Zealand government, the Dunedin City Council and the New Zealand Book Council, among others. Booksellers New Zealand CEO Lincoln Gould wrote that Booksellers New Zealand represents more than 200 booksellers in the country. "From their establishment, far from mainstream economies, our members have continually striven to look outward and embrace the world of books and represent best practice in offering readers books of the world. The expanding global economy has enabled New Zealand booksellers to engage even more with the international community of authors and publishers. The topic of this conference is thus very close to our hearts."

New Zealand Minister for Arts, Culture and Heritage Maggie Barry said that the national government "welcomes the opportunity to host international delegates to strengthen the link between booksellers and related associations from across Europe and around the world.

"Not only are New Zealanders voracious readers but buying books and going to the library rate among our favourite pastimes. With this in mind, New Zealand has an innate affinity with books and your delegates will be met with the most genuine welcome on earth."

Concerning the program of the conference, Booksellers New Zealand wrote, "In our current global economy, bookshops, thus booksellers, can be found the world over, in many different forms. What all booksellers have in common is that they represent the sharp end of the dissemination of culture: national or international, literary or mass market. Booksellers are the bridge between an author seeking a reader and a reader wanting entertainment, information or advice. And booksellers, whether from Boston, or Seoul, from Oslo or New Delhi all have a passion for the role they play; to place the books they love into the hands of the people that they were created for. Whether they serve children, avid fiction lovers, or sports-people; their mission remains the same."

The proposed program includes, among others, a session on "the future of English language bookselling in Asia"; a presentation by Nielsen Book Data on "global industry trends and sales data"; speakers on various bookselling programs in the U.S., U.K. and Germany; sessions about diversity in the book world, learning more about store customers, marketing, recruiting and nurturing younger booksellers; and a trade show.

The home of the University of Otago, Dunedin became New Zealand's UNESCO Creative City when it was awarded City of Literature status in 2014. The local organizing committee includes Phillippa Duffy, general manager of the University Book Shop in Dunedin, a director of Booksellers New Zealand and a founding trustee of the Dunedin Writers & Readers Festival; and Nicky Page, director, City of Literature.

[Editor's note: some of the Shelf Awareness editorial staff are familiar with Dunedin after having studied and visited there, and can attest that it is an inviting, beautiful city. The South Island is one of the most gorgeous places in the world, the home of Milford Sound, the Southern Alps, Queenstown (a center of outdoor and extreme sports) and more. In addition, New Zealanders are some of the most welcoming, gracious people in the world. We heartily endorse this proposal.]