Three hundred and fifty years ago an infamous disaster struck London – the Great Fire of 1666. An exhibition can now be seen at The Museum of London, situated in East London, and as part of the exhibition an unusual piece of manuscript evidence believed to be reported from a House of Commons committee investigating the causes of the Great Fire can be viewed.

What appears to be a hastily penned two-and-a-half page document by an unknown writer appears to have been drafted from a verbal report presented to the House of Commons on 22 January 1667 by Sir Robert Brooks, Chairman of the parliamentary committee established in September 1666 to investigate the origins of the fire. Although the writer is unknown, the Museum says that the clumsy phrasing and a range of phonetic spellings including 'Frinch' instead of 'French' and 'marchant' rather than 'merchant' do suggest that they had a very pronounced regional accent and were not particularly well schooled.

The manuscript details seventeen depositions including those of Thomas Farriner, the owner of the bakery on Pudding Lane where the fire began, and Robert Hubert, the Frenchman who confessed to and was ultimately hanged for starting the fire on 27 October 1666. It is not clear if Hubert, a presumed Catholic, did indeed start the fire and the judges at his trial doubted his guilt, thinking he might be mad. All evidence today points to the fire being an accident.
"England Expects…" – Important Nelson Manuscripts on Sale at Bonhams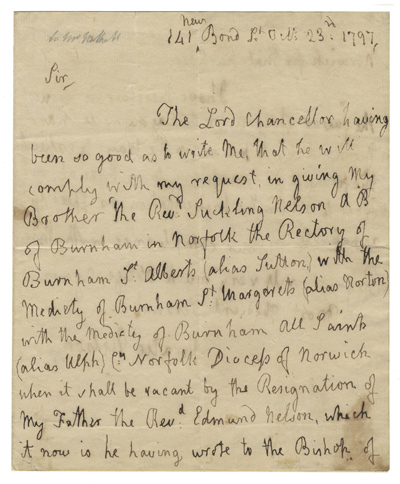 Bonhams' next sale of Fine Books and Manuscripts on 9th November will include 11 lots of manuscripts relating to Lord Nelson and Emma Hamilton. Perhaps among the most poignant are an autograph envelope posted by Nelson on the day that he left for Trafalgar on his last campaign and a letter written by Emma Hamilton to her admirer Colonel Sir Richard Puleston as she languished in a debtors' prison in 1814.

Also included in the sale is an unusual piece of memorabilia relating to the Battle of Trafalgar itself – a presentation inscription by Signal Lieutenant, John Pasco, who sent perhaps the most famous naval signal in history: "England expects every man to do his duty". In it, he explains how he not only relayed the signal, but also how he helped to compose it with Nelson in the heat of the battle.

The sale also includes an autograph letter written by Nelson with his right hand dating from 1795 and another with his left just three months after losing his right arm at the Battle of St Vincent. As a collection the manuscripts are estimated at between £18,000 and £26,500.

For more information visit:
http://www.bonhams.com/auctions/23577/
or call 0207 393 3828.
A last chance to visit the Rare Music Collection displayed at Sydney University, Australia as it will close on 30 November.

This exhibition is a celebration of the University Library's Rare Music collection, on the occasion of its relocation from the Conservatorium Library to Fisher Rare Books & Special Collections. When the NSW State Conservatorium of Music was officially opened on 6 May 1915, its stated aims were "providing tuition of a standard at least equal to that of the leading European Conservatoriums". It is logical that the Rare Music collection of Australia's first dedicated music education institution is concentrated around two main streams: the European classical music tradition and the Australian musical culture that developed from the foundation.
Three Centuries of American Artifacts and Ephemera at Swann Auction Galleries' November Sale
On Thursday, November 17, Swann Galleries will hold an auction of Printed & Manuscript Americana, featuring coast-to-coast historical documents relating to Mormons, conquistadors, the invention of the telephone and more.

Early selections include the 1535 first Italian edition of

Libro Primo de la conquista del Peru & provincial del Cuzco

, a contemporary narrative of Peruvian conquest under Francisco Pizarro, written at his request by his secretary, Francisco Xerez ($12,000 to $18,000). Also available is

A Philosophical Treatise of the Original and Production of Things

by Richard Franck, 1687. Arguably the first work on philosophy written in North America, the book also discusses theology and natural history, referencing a fish called "the American Snite" ($3,000 to $4,000).

Materials related to the American Revolution include a collection of 38 issues of the

Pennsylvania Gazette

sent to a single subscriber from 1773-74, with such historical highlights as a justification and discussion of the recent Boston Tea Party;

Observations on Inoculation for the Small-Pox

; and an early printing of the Suffolk Resolves, presented to the Continental Congress ($5,000 to $7,500). Captain John Schenck's original unpublished manuscript orderly book titled

Preparing for the Most Vigorous Defence

details the fortification of New York City from February to April 1776. The book includes passwords and countersigns, updated daily, as well as financial accounts and a log of goings-on in the camp ($6,000 to $9,000). Other highlights include the first announcement of the completion of the United States Constitution in convention (in a 1789 issue of the

Pennsylvania Packet

), estimated at $20,000 to $30,000.

Also available is George Washington's official printing of the

Treaty of Greenville,

1795, which ended the ten-year Northwest Indian War. Only one other copy of the treaty has appeared at auction; the present copy is expected to sell for $6,000 to $9,000,

One unusual highlight from the sale is

A Discourse Delivered in Charleston…before the Reformed Society of Israelites

, a pamphlet recounting the 1827 speech by in South Carolina by Isaac N. Cardozo. The line of Cardozo and his common-law wife Lydia (they could not marry legally because she was an African American) continues to this day. The pamphlet, in excellent condition, is expected to sell between $12,000 and $18,000.

The top lot of the sale is the rare first edition of

The Book of Mormon

, released days before the official establishment of the church in 1830. This is the only version to list Joseph Smith as the "author and proprietor" rather than the translator; it is valued at $40,000 to $60,000. A manuscript diary by a preacher named Benajah Williams is also in the sale, concerning circumstantial associations to Smith's first vision ($10,000 to $15,000). Other Mormon offerings include a $1 banknote altered to read "Kirtland Safety Society Anti-Banking Co." now valued at $4,000 to $6,000.

With highlights from the collection of Timothy Treacy, the sale offers selections that include most of the "Zamorano 80," a 1945 list of the most important early books on California. One of these, Edward Vischer's

Views of California

, 1862, a portfolio of 24 lithographs of what is now Calaveras Big Trees State Park, includes a view of the US Army's herd of war camels approaching Mammoth Grove ($4,000 and $6,000).

Military artifacts include Elias B. Hillard's set of mounted albumen photographs and biographies of the last six surviving veterans of the American Revolution, published in Connecticut in 1864; estimated at $3,000 to $4,000. Also available is an unusually large and complete archive of war-date correspondence by a lucky member of the ill-fated 16th Connecticut Infantry named Charles L. Taylor. The lot of nearly 450 items includes Taylor's diary, letters to his new bride Harriet Tuttle and his parents, and their replies. The tone of each is markedly different, creating a multi-dimensional view of battles and life in the camps from 1862-65. Most of the 16th Connecticut Infantry was decimated in the Battle of Antietam; survivors were taken to the infamous Andersonville Prison. Taylor was one of very few that emerged from the war unscathed. The lot includes additional letters, family photographs and valuables, and one portrait; it is estimated at $8,000 to $12,000.

The

Illustrated log of the USS Narragansett's Pacific Cruise

was kept by the

Narragansett

's Midshipman George A. Calhoun from 1871 to 1872. The manuscript includes detailed maps, illustrations and albumen photographs recording the ship's movements in the South Pacific, including Hawaii, the Marshall Islands, Pago and Samoa ($10,000 to $15,000).

Fans of the telephone will be pleased by several years of correspondence concerning Alexander Graham Bell and his family, including letters from his student and future wife Mabel to her mother in which she calls him "dandified" and suggests he "made a very curious discovery with his telegraph the last evening." The lot spans 1874-84 and includes photos and a lock of Bell's hair; it is estimated at $2,000 to $3,000.

The auction will be held Thursday, November 17, beginning at 1:30 p.m. The auction preview will be open to the public Saturday, November 12 from noon to 5 p.m.; Monday, November 14 through Wednesday, November 16 from 10 a.m. to 6 p.m.; and Thursday, November 17 from 10 a.m. to noon.
An illustrated auction catalogue is available for $35 from Swann Galleries, Inc., 104 East 25th Street, New York, NY 10010, or online at
www.swanngalleries.com
.
For further information or to make advance arrangements to bid by telephone during the auction, please contact Book Department Director and Americana Specialist Rick Stattler via
rstattler@swanngalleries.com
or at 212-254-4710, ext. 27.