Shelf Awareness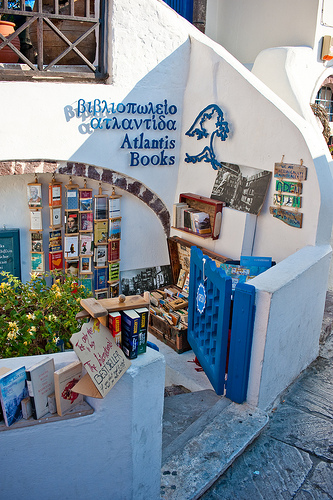 "On the Greek island of Santorini in the Aegean sea lies what is arguably the world's most beautiful bookshop, Atlantis Books," FvF reported, adding that the shop is in a "whitewashed villa built into the cliffs that looks out over a small village and a stunning, wide open bay." Atlantis Books also topped National Geographic's recent Top 10 Bookstores list.

The owner is Craig Walzer, an American originally from Memphis, Tenn., who first visited Santorini in 2002 during a break from his studies at Cambridge University. "I went with my friend, Oliver," he said. "We were there for a week and did very little. We weren't active tourists. We walked to the restaurant each day and stumbled back from it at night. Playing cards, reading books, eating tomatoes, staring at the view--that was it for a week. It was great. Then we ran out of books. We had nothing to read and there was only this really shitty news-stand. We were like, 'Urgh, that sucks. We should totally open a bookstore!' "

The rest is bookselling history (partially recounted in his 2012 TED Talk "Artful lies and shelves of fiction"), with an amazing view.