By
Steve Marsh
-
Vulture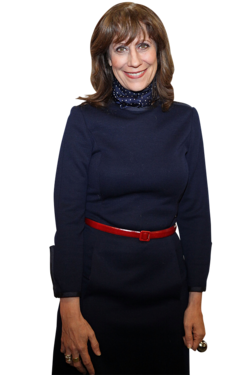 Lizz Winstead didn't just create
The Daily Show,
serving as the show's first head writer back in the Craig Kilborn era — she helped put both Stephen Colbert
and
Rachel Maddow on the map. She plucked Colbert from morning television (he was doing goofy little segments for
Good Morning America
), and she discovered Maddow on a morning radio show in Northampton, Massachusetts, then signed her for a political talk show co-hosted by Chuck D on Air America. This is all in Winstead's new book,
Lizz Free or Die
, which shows how the Minneapolis native found her place as a feminist stand-up and political satirist in New York. (Watch the book trailer, below.) We talked to her about romance on the set of
The Daily Show
, what she thinks about
Girls
(everyone has an opinion), and wanting to be a priest.
"I just wanted to have an uninterrupted time in my life where I could say something and nobody would change the subject."
So much for retirement! Since the Oscars,
The Artist
's
mysteriously shaking wonder dog
has lined up gigs
pitching Nintendo
and
attending the White House Correspondents' Dinner
; now the AP reports that a division of Simon & Schuster has inked a deal with Uggie to write his autobiography,
Uggie: My Story
, which will be out in October (so long from now!). Let's hope it has as much humping as
Frank Langella's memoir
.

Alison Bechdel, the graphic memoirist whose forthcoming book
Are You My Mother
was reviewed in New York earlier this month
, and Lauren Redniss, who wrote the acclaimed illustrated history of Marie and Pierre Curie,
Radioactive,
were both
named Guggenheim Fellows today
. It's unclear how much each
award winner will get as part of the fellowship
— the foundation decides the amount of the grant on a case-by-case basis — but let's hope Bechdel and Redniss at least receive their prizes on giant novelty checks.
By
Claude Brodesser-Akner
The ink has barely dried on the deal to turn E.L. James's
50 Shades of Grey
into a feature film at Universal Pictures, but already it seems that Hollywood is hot for S&M: We hear exclusively that Fox's FX Network is partnering with Vince Vaughn's Wild West Picture Show Productions to develop Shawna Kenney's memoir
I Was a Teenage Dominatrix
.

Writer-director Chris Weitz is more than comfortable spending an afternoon in the Young Adult section of
Barnes & Noble
— in addition to directing
Twilight: New Moon
, he also adapted Philip Pullman's
The Golden Compass
for the big screen. That particular project
did not go the way
that he or
His Dark Materials
fans might have liked, but Weitz is undeterred; in fact, he is so committed to the YA genre that he will now be writing his
own
novels for the teen set. Little, Brown Books for Young Readers will publish Weitz's trilogy of fashionably postapocalyptic novels in which teens run the world. Vulture sincerely hopes it looks nothing like
this video.
Many latter Stephen King novels have noticeably, mostly pleasantly eschewed all-out horror in favor of directions like
romance
, impenetrable
domes
amplifying small-town politicking and neighbor-murdering, and time-traveling adventures in getting JFK
un-assassinated
. Now King is pressing pause on all that messing about, at least for a moment. "He's writing a book called
Joyland
, about an amusement park serial killer," author Neil Gaiman almost offhandedly notes in an amusing profile in the U.K.'s
Sunday Times
(
transcript here
). With so much semi-prestigious (or at least unusual) showbiz goodwill amassing around King lately — Ron Howard's crazy ambitious
plans
for
The Dark Tower
, Ben Affleck's
potential trilogy adaptation
of
The Stand
, John Mellencamp's
King-written
stage musical, Showtime and Brian K. Vaughan's
Under the Dome
miniseries
, Jonathan Demme
snagging
the rights to
11/22/63
,
theatrical
and
Hollywood
resurrections of
Carrie
— we could all use at least one more schlocky horror film based on a bloody work straight out of King's wheelhouse. (And King's
Shining sequel Doctor Sleep
, due in 2013, may even beat
Joyland
's return to the murder-y roots.)

Robert Kirkman created
The Walking Dead
as a graphic novel, then became executive producer of AMC's hugely popular adaptation, then became a staple on the same network's fan series
Talking Dead
, too.
And with all those ventures remaining stolidly ambulatory, it comes as little surprise that 2011's odd non-comic
Walking Dead
novel
Rise of the Governor
wasn't immune to the series' success, either.
Kirkman and co-writer Jay Bonansinga will launch a second no-pictures-allowed book
,
The Road to Woodbury
, on October 16, detailing more exploits of the
soon-to-appear-on-TV
baddie the Governor. The release will coincide with the show's third season, robbing the novel's shot at tiding over ravenous zombie-lovers. But with a comic approaching its 100th issue and a show evidently capable of
reeling in 8 million viewers all at once
,
The Walking Dead
is no longer a series that needs to play by any rules but its own. Find your own way to abide the wait, fans.