Tuesday morning, the
NYT
reported that
Maurice Sendak
, 83, died earlier in the day due to complications from a recent stroke, according to his longtime editor Michael di Capua. (The AP says he suffered the stroke last Friday night and never regained consciousness.) He is "widely considered the most important children's book artist of the 20th century, who wrenched the picture book out of the safe, sanitized world of the nursery and plunged it into the dark, terrifying and hauntingly beautiful recesses of the human psyche."
My Brother's Book
, a poem written and illustrated by Sendak "and inspired by his love for his late brother, Jack," is currently scheduled for publication by HarperCollins Children's in February 2013 -
PublishersLunch
.
Maurice Sendak obituary in The Guardian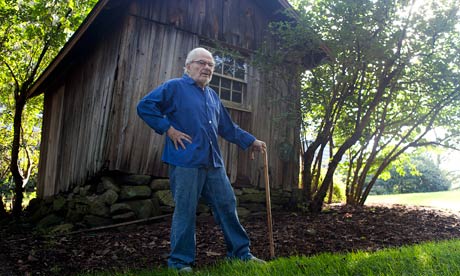 Maurice Sendak
, who has died aged 83, was both one of the most individual and one of the most successful illustrators of the 20th century. Since 1951 his 90-odd titles have sold nearly 30m copies in the US alone. His renowned work Where the Wild Things Are (1963), with worldwide sales of more than 19m, was a turning point not only in his own career but in the history of children's books.
The bulk of his work lay in illustrating other writers, but it was his own, far fewer, books which brought him countless international awards and academic honours, and made him the subject of many a thesis. At first, Where the Wild Things Are and its follow-up, In the Night Kitchen (1970), caused outraged shock at their robust portrayal of children's fears and aggression; Sendak's fantasy was always "rooted 10ft deep in reality", and with such passions as William Blake, Samuel Palmer and George Cruikshank, and the German Philipp Otto Runge, as well as the Brothers Grimm, he gave the glow of the old Romantics a contemporary Freudian edge.
The Wild Things were actually modelled, he said, on his Jewish uncles and aunts who racketed around his childhood, unpredictably and on the whole in a well-intentioned if slightly threatening vein. In 2009, Sendak,
discussing Spike Jonze's film version
of Where the Wild Things Are, rejected parental concerns about the story being too scary: "I would tell them to go to hell," Sendak said. If children couldn't handle it, they should "go home. Or wet your pants. Do whatever you like."
Full tribute at The Guardian
And from Richard Robinson, Chairman, President and CEO, Scholastic Inc. :
"Maurice Sendak captured childhood in brilliant stories and drawings which will live forever."
Richard Robinson, Chairman, President and CEO, Scholastic Inc.
Maurice Sendak dies
08.05.12 | Charlotte Williams - The Bookseller
Children's author Maurice Sendak, whose most famous work was Where the Wild Things Are, has died at the age of 83, four days after suffering from a stroke.
Random House Children's Publishers m.d. Philippa Dickinson said: "Maurice Sendak has astonished and delighted generations of children around the world with his remarkable books and we mourn the passing of such a huge talent."
Where the Wild Things Are was first published in 1967, and RHCP has said it is "currently finalising plans to celebrate 50 years of this iconic bestseller in 2013". The book tells the story of Max, who is sent to bed without any supper and who then goes on a journey through his imagination to the land of the wild things.
Sendak's latest book, written and illustrated by the author, Bumble-Ardy, was published by HarperCollins last year.
MORE: