By Linda Herrick - Tuesday May 22, 2012 - Canvas magazine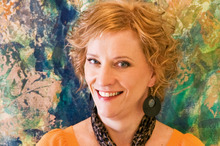 Author Helen Brown tells Linda Herrick how her life's dramas have led to an upcoming movie — all thanks to two cats.
Whoever takes on the role of writer Helen Brown in the upcoming South Pacific Pictures film of her best-selling memoir, Cleo, faces the great cliche of acting: never work with children or animals. In this case, the actor will have to contend with both. The kids will play Brown's young sons Sam and Rob in the tale, set in 1983 when the family was living in Wellington and 9-year-old Sam was killed by a hit-and-run driver.
The animal will "play" Cleo, the fluffy kitten Sam had chosen shortly before he was killed, and which was delivered to the house a few weeks later because the breeder hadn't heard about the tragedy.
Despite the initial shock of Cleo's arrival, the cat gave Rob, who was with Sam when he was killed, a reason to laugh again and her considerable personality warmed the family, in its various permutations, for the next 23 years.
When Cleo died, Brown, who meanwhile had had a daughter, Lydia, divorced Sam's father, remarried and moved to Melbourne in 1997 with her banker husband, swore she'd never get another cat.
Too much heartache.
But heartache was bearing down anyway. As Brown recounts in her new book, After Cleo Came Jonah, her teenage daughter Lydia was vanishing into the most mystic extremes of Buddhism
Full story at New Zealand Herald.
This is a timely story as Helen Brown is about to make a tour of New Zealand. Details follow.
HELEN BROWN – NEW ZEALAND AUTHOR TOUR
AUCKLAND – Thursday 24 May
An Evening with Helen Brown
Refreshments from 6.00pm. Author talk from 6.30pm.
Takapuna Library, The Strand, Takapuna
Proceeds from this event will go to the New Zealand Breast Cancer Foundation.
MASTERTON – Saturday 26 May
Helen Brown will be appearing at the Yarns in Barns festival
4.00pm, Hedleys Booksellers, 150 Queen Street
Edgewater, Sargood Drive, Wanaka
Tickets $20 (includes lunch)
Available from Paper Plus Wanaka T: (03) 443 7532
Proceeds from this event will go to the New Zealand Breast Cancer Foundation
TICKETS ARE SELLING FAST - Buy now to avoid disappointment
ARROWTOWN – Monday 28 May
An Evening with Helen Brown
FREE EVENT, but please reserve your place. Seats are limited.
CHRISTCHURCH – Tuesday 29 May
12.30-1.00pm - Scorpio Books, container mall
2.00-2.30pm - Scorpio Books Riccarton
Please call 03 379 2882 for details.
An Evening with Helen Brown
Oxford Workingman's Club, 160 High Street, Oxford
Tickets $10 (includes drink on arrival).
$5 from each ticket sale will go to the Oxford Cancer Support Group.
NEW PLYMOUTH – Wednesday 30 May