The downfall of Anne Boleyn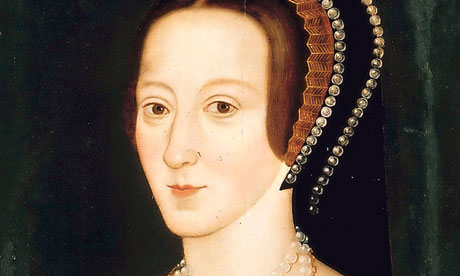 Oh, those Tudors! We can't get enough of them. Whole bookshelves have been filled with them, acres of film consecrated to their antics. How badly behaved they were. What Machiavellian plottings and betrayals. Will we never tire of the imprisonments, torturings, entrail-windings, and burnings at the stake?l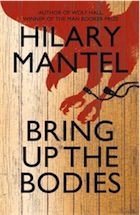 Philippa Gregory
has very successfully tackled the Boleyn girls, Mary the Mistress and Anne the Aggravating. Then there's
The Tudors
, the TV series, in which church geopolitics are ably dealt with, though some of the underwear is anachronistic and Henry VIII is a dark, brooding romantic who never gets fat. This is stretching it, but makes for much better sex than if he were to wheeze and grunt and ooze from his decaying leg all over the bedsheets, as in real life.
I have a weakness for the Tudors, so I inhaled
Hilary Mantel
's terrific Booker-winning
Wolf Hall
– the first in her series about Thomas Cromwell the Calculating and Ruthless – in almost one sitting. Now comes the aptly titled
Bring Up the Bodies
, which picks up the body parts where
Wolf Hall
left off.
As the book opens, it's summer. Henry and his court are staying at Wolf Hall, home of the Seymours, where Henry has his piggy eye on stiff, prudish little Jane, destined to be his next queen. Thomas Cromwell is flying his hawks, named after his dead daughters. "His children are falling from the sky," Mantel begins. "He watches from horseback, acres of England stretching behind him; they drop, gilt-winged, each with a blood-filled gaze … All summer has been like this, a riot of dismemberment." And we're off, into the deep, dark, labyrinthine, but strangely objective mind of Thomas Cromwell.
The historical Cromwell is an opaque figure, which is most likely why Mantel is interested in him: the less is truly known, the more room for a novelist. Cromwell rose from obscure and violent origins through a life abroad – sometime soldier, sometime merchant – to become England's top go-to man, the prime maker-and-breaker of fortunes and spines, secretly hated and despised, especially by aristocrats. He played Beria to Henry VIII's tyrannical Stalin: he did the dirty work and attended the beheadings, while Henry went hunting.
Full review at The Guardian.